Always For You: Jack by Alexis Morgan finds Jack McShane in a tough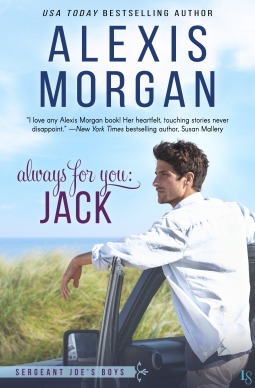 place. His adoptive father just died, leaving his construction business to him and his two brothers. Recently discharged from the military because of an injury, he has no choice but to return home to run the company, since his two brothers were still in the service. When a teenager, clearly homeless, shows up at one of the worksites, he offers to help him. In order to get him caught up with classes for school, he hires tutor Caitlyn Curtis.
Caitlyn is immediately attracted to Jack, but feels nothing could come of it until her job of tutoring Ricky ends. That doesn't last long as Jack convinces her to go out on a date and they get to know each other better.
I felt the story focused more on Ricky and his situation than it did on the actual budding romance between Jack and Caitlyn. You can't help but feel for Ricky. Despite the physical abuse he suffered from his step-father, he wanted to try to make sure his mother was all right even though she didn't deserve his concern. I liked how Jack recognized himself as a kid in Ricky and immediately found ways to help him. He was patient with him, taking his time to do little things in order to get Ricky to trust him. Caitlyn was also patient and understanding with skittish boy.
That being said, since the story focused more on Ricky, it was hard to really feel the chemistry between Jack and Caitlyn. The build-up to their actual date was slow, but then things progressed fairly quickly for them. That's not necessarily a bad thing, but I found myself more interested in what was going on with Ricky than I was with their relationship.
This is a story about discovering a family to belong to when you least expect it. There are some humorous moments, some disappointing moments, and some painful moments, but, in the end, they all lead to finally finding happiness and a place to belong.
Book Info:

Publication: April 19, 2016 | Loveswept | Sergeant Joe's Boys #1
No one understands family loyalty like Jack McShane. He'd do anything to honor his foster father's last wishes, even if it means putting his own plans on hold to manage Joe's construction business. An ex–Special Forces operative, Jack thrives on the thrill of globe-hopping rescues. But now he's needed closer to home. His foster mother has her hands full with a troubled teen, and when Jack meets the hired tutor, he discovers a woman who stirs his protective instincts—and his deepest desires.
Caitlyn Curtis knows that good looks can hide a hot temper. After an abusive marriage crushed her dreams of a happy ending, she swore off men—until one intoxicating dance in Jack's strong arms breaks down every emotional barrier. Tough but tender, he leaves Caitlyn yearning for more of his gentle seduction. Despite the violence he's seen, Jack is a good man. And even though passion can be dangerous, the promise of Jack's kiss tempts her to believe that love is a risk worth taking.