In Always On My Mind (Lucky Harbor #8) by Jill Shalvis, Leah Sullivan is back in Lucky Harbor to take care of her grandma Elsie's bakery while she recovers from knee surgery. The town hasn't changed a whole lot in the years she's been gone but Leah is happy to bake up a storm and reconnect with old school friends. Especially with Jack Harper. He was her neighbor during high school and has been her closest friend since, even when they've lived in different states. He was there for her when her family life wasn't the greatest, and she was there for him when his father died. Now his mom is having some health issues. To help boost Dee's spirits,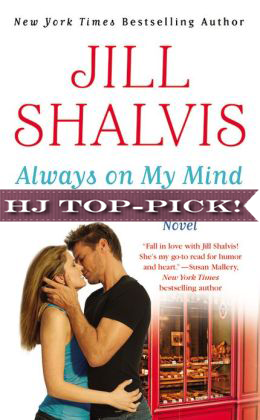 Leah tells her that she and Jack are a couple. Before long the whole town has heard. Jack and Leah have to decide how long to play out the charade and agree to some ground rules to keep them both from getting hurt. But will they be able to just stay friends? Or will Leah fall in love with Jack, they guy who always came to her rescue growing up?
'But that was Leah. Drawn to things that were bad for her. And Jack was bad for her, always had been. Not to her physical well-being, of course. Nothing as simple as that. Nope, he was lethal to something else–her heart.'
Firefighter Jack Harper is happy to finally spend some time with his good friend Leah. He's been worried about her since she dropped out of school to become a pastry chef but she did bounce back by starring on a reality cooking competition. She can't tell anyone yet if she won, due to a contractual agreement, but she's been doing extremely well on the episodes so far. He definitely didn't expect to find out that she told his mother they are an item. Jack knows Leah had her heart in the right place, but he's worried it will hurt his mom when they tell her the truth. All he wants is for Dee to get better. Jack's other (and biggest) concern is that he won't be able to keep his feelings at bay while they pretend to be a couple. Leah's always an important part of his life. Suddenly his bachelor lifestyle doesn't hold as much comfort as it did before. Can he possibly make a relationship work, given his crazy schedule on the fire department and their complicated past?
'Jack pocketed his phone and looked at Kevin. "So a show of paws. Am I the biggest idiot on the planet, or the smartest?"
Kevin yawned.
"Yeah, you're right. Idiot."
Well. Jill Shalvis has done it yet again. Book eight in the Lucky Harbor series is just as fresh, funny and engaging as the others have been. Always On My Mind is filled with the same witty banter and flirty chemistry that I have come to love and expect in Jill's stories. She somehow always manages to combine humor with charged emotions, keeping me plastered to the pages until I have read every last one. Her writing has a way of drawing me in to the story and not letting go even after I'm done. The characters just stay with me.
I fell in love with both of our protagonists, Leah and Jack, and also with a certain "one-hundred-and-fifty-pound pesky Great Dane with an eating disorder" named Kevin. Absolutely. Hysterical. He kinda stole the show a few times…but in a good way. Trust me. You'll love him too. It was quite interesting to see Leah and Jack reunited after so many years apart. They've kept in touch by phone, texts, emails and cards, but a lot can change in a decade. Their friendship is still solid. But neither one is the teenager they were when Leah left town. Their feelings have matured as well and they have to figure out where they fit into each other's lives while Leah is back in town again. The fact that she convinces Jack to be her pretend boyfriend for the sake of his mother's health just further complicates things.
Lucky Harbor's residents are still very much a part of this story, thank goodness. Everyone is just as quirky and nosy, but loving, as they always have been and are an integral part of the plot. They all root for the underdog and dole out wisdom and advice as they deem necessary, like this gem from Dee:
"It's all about trust, isn't it? Such a hard thing to do."
"So how did you finally do it?" Leah asked.
"My mom told me that I should trust the man who could see the sorrow behind my smile, the love behind my anger, and the reasons behind my silence."
I definitely recommend checking out Always On My Mind. Especially if you're a fan of laugh-out-loud, small town contemporary romance that will tug at your heart with its depth of emotion.
Book Info:

Publication: September 24th 2013 by Grand Central Publishing
(Lucky Harbor #8)
THERE'S NOTHING LIKE THE REAL THING
After dropping out of pastry school and messing up her big break on a reality cooking show, Leah Sullivan needs to accomplish something in her life. But when she returns home to Lucky Harbor, she finds herself distracted by her best friend, Jack Harper. In an effort to cheer up Jack's ailing mother, Dee, Leah tells a little fib – that she and Jack are more than just friends. Soon pretending to be hot-and-heavy with this hunky firefighter feels too real to handle . . .
No-strings attachments suit Jack just fine – perfect for keeping the risk of heartbreak away. But as Jack and Leah break every one of their "just friends" rules, he longs to turn their pretend relationship into something permanent. Do best friends know too much about each other to risk falling in love? Or will Jack and Leah discover something new about each other in a little town called Lucky Harbor?