Bringing Home the Bachelor (The Bolton Brothers #2) by Sarah M. Anderson tells the story of the eldest Bolton brother, Billy and a no nonsense school teacher and single mom, Jenny Wawasuck.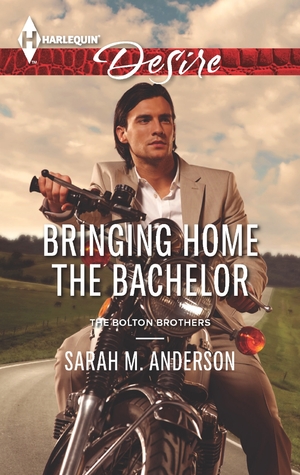 Billy comes across as a tough guy and looks a little scary with his many tattoos. He is a big, brawny, intimidating man that has spent the past ten years escaping his past by immersing himself in his family's business, Crazy Horse Choppers. Billy creates and builds customized motorcycles, while his brother Ben manages the company finances and his youngest brother Bobby handles the marketing. Billy's prior indiscretions have caused him to be slightly reclusive and he prefers to remain out of the limelight. However, Billy is sort of famous because his brother Bobby creates webisodes of him actually building the bikes in the shop, and then posting the recordings onto YouTube. Billy's antics of swearing and occasionally throwing a tool or two has created quite a following.
Elementary school teacher Jenny Wawasuck is the single mother to Seth, her fourteen-year-old son. Her life revolves around her son and teaching at the The Pine Ridge Charter School on the reservation. Even though she is just barely scraping by on her salary, it is her mission in life to give direction and guidance to young, poor, soon-to-be mothers on the reservation. Funding for the program is almost non-existent at this point and she finds herself dipping into her savings to ensure the young women at least get a snack when they meet. Jenny is an attractive, petite woman with a heart of gold. She just needs a man to share it with.
Billy and Jenny meet when Billy is building a new bike for the school. The attraction between Jenny and Billy is magnetic, even though Billy's bad boy image, ink and arrogance is not what Jenny wants around herself and her students. Jenny tries to deny her lustful feelings, but it is impossible. Passion is definitely in the air. With Seth being Billy's right hand man in the school's shop, they are able to see each other every day.
This Was The Reason Why He Didn't Want Women
In The Shop. Too Distracting.
When Billy managed to step away from Jenny, he saw that she'd tucked her lower lip under her teeth with enough pressure that the flesh was bleaching white. What had been, up to that moment, a mere irritating attraction shifted right over to desire.
He wanted the pretty little schoolteacher in a way that had nothing to do with civility. He wanted to kiss the color back into her lip, to find out how hard she was capable of biting.
Then she looked up at him through thick lashes, and he saw his own desire mirrored in her eyes. She wasn't scared of him, nor was she mad at him.
As difficult as it was to believe, she wanted him, too.
Billy knows that any sane woman would not want him but Jenny is not like other women and she is not afraid of him.Will this unlikely pair find love in each other..??
Bringing Home the Bachelor is a very well written romance with great chemistry between the characters and the best part is that it is written with both Jenny and Billy's POV. The anticipation from the start was great and the romance was filled with sparks, and sexual tension with the road bumps being few and towards the end. I loved the way Jenny stood up to Billy, who was a true sensitive bad boy with a huge heart inside all that tough exterior.
Overall Bringing Home the Bachelor by Sarah M. Anderson is a hot romance with an inspiring plot, a book for any die hard romantic 🙂
Book Info:

Publication: September 3rd 2013 by Harlequin (first published September 1st 2013)
In this Bolton Brothers novel, Sarah M. Anderson shows how one single mom at a bachelor auction can bring home the wildest ride of her life!
Jenny Wawasuck knows that "Wild" Billy Bolton is all wrong for a good girl like her. But then she sees the bond Billy forms with her son—and feels how Billy's touch burns her skin, how his kiss ignites desires she's long ignored. So she brings him home from the charity bachelor auction.
Now Billy has one night to stake his claim. But in a world filled with blackmailers and gold diggers, can a millionaire bad boy and a sweet single mom turn one chance into forever?
Add to: