Amish Christmas Twins by Patricia Davids: What a welcome treat to read a new story by Patricia Davids, one of my favorite writers of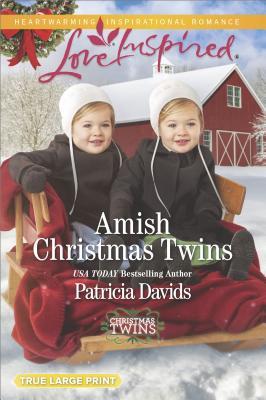 Amish stories for Harlequin.
In Amish Christmas Twins, we the readers meet Willa and her adorable young toddler twin girls as they are en route to her grandfather's home. Willa hopes her grandfather will give her and the twins a home now that she is widowed, even though he disowned her parents when they left the Amish. Willa meets John when he is taking a delivery of a sleigh to her grandfather's neighbor and gives her and the girls a ride.
The story continues after John and his widowed mother take in Willa and the girls when her grandfather refuses to help them with a home. Willa is determined to reach another part of Ohio where her aunt lives, hoping her great aunt will welcome her. She is trying to find refuge and escape from her former in laws, whom she is convinced want to take her children away. When Willa and her daughters face a prolonged stay in Bowmany's crossing, they become more deeply connected with John and his mother. John fights hard to deny the strengthening feelings he has for Willa, while his mother seems determined to bring them together.
To find out if Willa and her children will be able to stay together, and if Willa and John will be able to create a future and family together, I highly recommend reading Amish Christmas Twins. It's truly a "feel good" story!

Book Info:

Publication: October 1, 2017 | Harlequin LoveInspired |
With Christmas just around the corner, widow Willa Chase will do anything to retain custody of her twin girls and unborn baby–even if it means escaping to her childhood Amish home. After her grandfather turns her away, Willa finds herself stranded at the home of blacksmith John Miller. A widower, John buries himself in work–until Willa's vibrant twins become impossible to ignore. And before long, John is smitten with their beautiful mother, too. But when Willa's past secrets are revealed, will they prevent John's Christmas wish for a happily-ever-after from coming true?