Breakaway by Sophia Henry: After injuring himself in a game a year ago, NHL player Luke Daniels has been in rehab working to get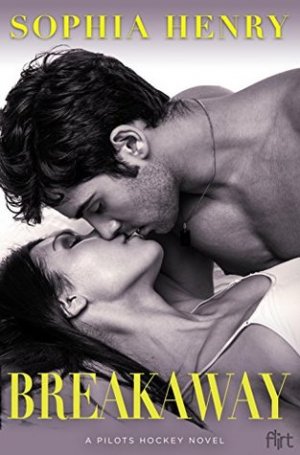 back on the rink despite his doctors telling him he'll never play again. Luke can't give up the dream, not when he's worked so hard for it after having come from nothing.
Breanna Collins is a travelling nurse, staying in the North Carolina hospital for only a few months in order to escape the demands of her family. Her younger brother lost his chance to play in the NHL due to an injury, and the family had put it on her to find a way to get him back in the game.
What starts as a hookup while Breanna's in town becomes so much more. They find each other irresistible, but after a bad breakup, Breanna isn't ready to put her heart in the game. But Luke knows she's the best thing to ever happen to him and he can't let her go, despite the past that holds him back.
Luke's lips touch my ear and a shiver rushes through me even before he speaks. "You know you're fucking beautiful, right?"
A smile tugs at my lips as he slips one hand under my shirt and curves the other around my upper thigh.
Both outdoorsy and down to earth, Breanna and Luke were good together. They definitely fit as a couple, and they had that passionate spark. The conflict between them wasn't the best since it just felt too weak, but their personal conflicts I liked going through with them.
Luke's injury in particular I couldn't help but feel for him. To lose the thing he's worked for his entire life. Breanna's, too, was just plain relatable given heartbreak and overbearing family. Seeing what she's done for her family as well as seeing her strength in knowing when to say no made me respect her a lot more.
However, I had difficulty liking Breanna. Being in her point of view, she came across pretentious and holier-than-thou. She had to show herself as unique and different from others, and it was just annoying. Luke I enjoyed more, but his issues about his background and her wealth got on my nerves. Overall, while not a fan of the hooking up aspect, the romance was good. I recommend Breakaway for those who want a sexy, athlete romance.

Book Info:

Publication: September 5, 2017 | Flirt | Pilots Hockey #5
In a standalone hockey romance that tugs at readers' heartstrings, a broken ex-pro learns to live and love again—all thanks to the complicated, wonderful nurse who gives him a second chance.
Brianna Collins needs to break away from her overbearing family. Her parents expect her to "fix" her brother after a series of concussions derailed his hockey career. Unfortunately, no doctor will give him clearance to play, and she's finished with being the person they rely on to perform a miracle that will never happen. For Bree, a six-month nursing assignment at a hospital in Charlotte, North Carolina, is the perfect escape.
Luke Daniels, former forward for the NHL's Charlotte Aviators, has spent close to a year rehabbing a career-threatening injury—and distracting himself however he can. Worlds collide when Luke realizes that the girl from his latest one-night-stand happens to be the new nurse at the hospital where he volunteers in the pediatric unit. What's more, Bree's the only person who makes him excited about life again.
Despite her initial reservations, Luke can't help pursuing sweet, beautiful Bree. Then he realizes it was her brother whose career he ended with an accidental hit, and he falls back on the thing that's always helped suppress his demons: alcohol. But if Luke doesn't kick his old habits, he just may lose the one thing he loves more than hockey.