Amish Rescue by Debby Giusti is a book I had been waiting for, to find out just what happened to Sarah, one of 3 sisters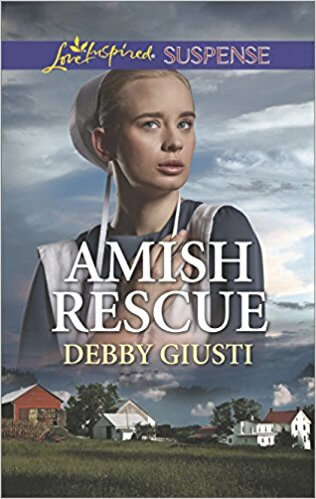 targeted by human traffickers in this series. We have already learned how her sisters Miriam and Hannah were eventually rescued. When local Amish farmer/carpenter Joachim comes to do some carpentry projects for a local English neighbor, he sees Sarah in an upstairs window and notices her expression of fear.
Sarah manages to escape in Joachim's buggy, and later shares with him and his sister just how evil her kidnapper is. He does his best to shield her from further kidnapping attempts, and all the while fights growing feelings for Sarah.
Sarah, meanwhile, is desperate to learn of the welfare of her sisters. Joachim helps her make discreet inquiries to find out where her sisters are, all whyile trying to keep her out of the abductors' hands. This proves to be quite tricky!
To find out what happens for Sarah, Joachim and her sisters, I definitely recommend this book!

Book Info:

Publication: April 1 2018 | Love Inspired Suspense | Amish Protectors #3
Englischer Sarah Miller escapes her captor by hiding in the buggy of an Amish carpenter. Joachim Burkholder is her only hope—and donning Plain clothing is the only way to keep safe and find her missing sister. But for Joachim, who's just returning to the Amish, the forbidden Englischer is trouble. Trapping her kidnapper risks his life, but losing Sarah risks his heart