Want You by Stacy Finz: TJ has been in love with Deb since they were kids, but she's always been with his younger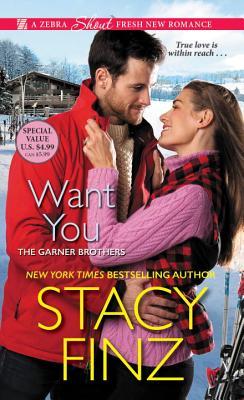 brother Win. He doesn't want to betray Win, but when he hires Deb to run the retail line of his family's business their close contact fires up his heart.
Deb hasn't been interested in Win for years; people just always expected them to end up together. But she only ever chose him, because she thought the totally put-together and successful TJ was too good for her.
Now Deb and TJ are getting their chance. They're falling hard and fast, but their working together – and the failing success of the retail branch – might just come between them.
This wasn't the story for me. I felt there was too much insecurity, and just way too slow of pacing. I wanted more action from both of them, but instead I read mostly indecision and worry. It made the romance boring, and it was difficult for me to like either Deb or TJ.
I did like the community of people, though, and the family business and outdoor sports aspect. Those were probably the most entertaining pieces of the story. One of my bigger issues was definitely the inclusion of Win's storyline and POV. It was so unnecessary, and only added to the more negative parts of the novel.
Overall, I just wanted more romance and less worry. This is the second in a series, but it can be read as a standalone. For those who love the adventuring, I recommend WANT YOU.

Book Info:

Publication: February 27, 2018 | Zebra Shout | The Garner Brothers #2
The smart and sexy Garner brothers have turned Glory Junction into California's hottest extreme sports town–and a thrilling adventure of the heart is always part of the deal . . .
The savvy CEO behind his family's outdoor sporting empire, TJ Garner has his choice of women. But the only one he wants is way out of bounds. Deb Bennett has been his brother Win's on and off girl since they were teenagers. And Deb's still waiting for Win to quit fooling around and realize she's The One . . .
Deb carves the ski slopes and rides the rapids like a champion–it's getting her every day life in order that's the real challenge. When she turns to Win's big brother for financial advice, TJ spontaneously offers the
hard-working waitress an executive job at Garner Adventure. To Deb's surprise, the job is a blast–and so is working for TJ. She always knew he was a heartthrob, just like all the Garners, but he's charming and attentive too. Of course, given the choice between him and Win there's no contest–or is there? . . .