An Heiress to Remember is the third book in The Gilded Age Girls Club by Maya Rodale. The series is based on a group of women who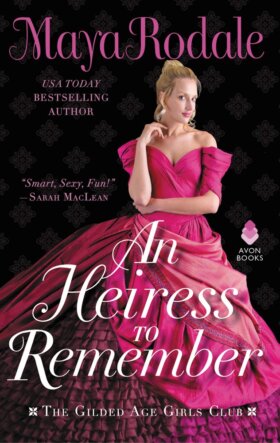 belonged to The Ladies of Liberty Club which helped each other to advance women in professional roles. They provided encouragement and support to each other and worked to provide new opportunities for women. They were forward thinkers, independent, and gutsy.
Beatrice Goodwin choose to marry a Duke rather than marry the man she loved, Wes Dalton. After spending sixteen years in the duke's drafty castle she returns to New York City with a ruined reputation. As a divorced duchess, she felt her life was just beginning and there were unlimited possibilities for her future. She discovered the family business, Godwin's Department Store, was facing financial difficulties and she was determined to hold onto the business and make it successful again. Upon learning that Wes had opened Dalton's Department store and was her competition she felt she had to succeed so he couldn't shut down the business. With some insight from the ladies in the club, she was determined to transform Godwin's into the shopping destination for women. Realizing that women made the purchases for the households, she customized the store to cater to women's needs.
Wes Dalton had worked hard to build his business and now possessed one of the greatest fortunes in Manhattan. He had sworn to have revenge when Beatrice choose the duke rather than him due to him not being rich or respectable enough. He was determined to shut Goodwin's down. The attraction they felt toward each other complicated things but they were both determined to win the competition. Dalton came to realize that even though he was successful in his business, he was lonely. He had worked so hard to become successful just so he could impress Beatrice with his money and power. He concluded he had to decide what mattered the most to him, winning the competition or winning Beatrice.
This was a wonderful addition to the series, but each book can be read as a stand-alone. The characters were well developed, and the book kept you engaged until the end. Some of the characters were shaped by real women who contributed to the reform for women. The book was true to the history of the Gilded Age and gave the reader a view of the struggle women faced during this time.
Book Info:

Publication: March 31, 2020 | Avon | The Gilded Age Girls Club #3
Uptown Heiress
Once a society darling, Beatrice Goodwin has returned to Manhattan in a cloud of scandal. She is determined to save the bankrupt family business—Goodwin's Department Store—and transform it into the shopping destination for Manhattan's women. She will certainly never, ever sell it to Wes Dalton.
Downtown Rogue
Wes Dalton came from nowhere to possess one of the great fortunes of the Gilded Age, thanks to his premier department store located opposite Goodwin's. This "Merchant Prince" never forgot the girl who got away—or her parents who made it clear that he'd never be rich, powerful or respectable enough. He has sworn revenge—until Beatrice's return complicates everything.
Happy ever after at last . . . ?
Now Goodwin's and Dalton's are dueling to be the best department store in Manhattan. Beatrice and Wes will stop at nothing to impress, and not even the sparks flying between them will get in the way of their fierce rivalry. They're competitors by day and lovers by night, until they're forced to choose what is sweeter: revenge, success or happy ever after at last.