If I Never Met You by Mhairi McFarlane: Laurie has just had her entire world rocked, not only does her boyfriend of eighteen years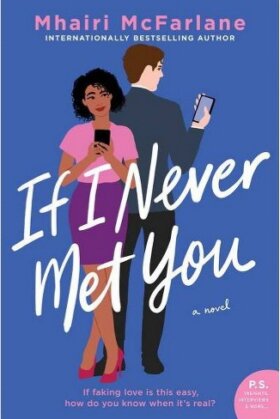 want to split but he has been having an affair and managed to get his mistress pregnant, after telling Laurie he doesn't want to have children. And to make matters worse they work together at the most gossipy law firm in town. Not only does she now have to fend of the gossip mongers but she also has to fend of her ex-boyfriend and pushy co-workers that seem to think they have a say in how she runs her life.
"This Greek God was prepared to anoint her his Phony Goddess? It did feel like the most longed-for boy in school asking you to prom."
New to the firm and hungry to prove that he has what it takes to make partner, Jamie is having a hard time proving this with his reputation for being a ladies man hindering his candidacy with the senior partners. After being stuck in the lift one Friday after work with Laurie, Jamie realises that there might be away for the two to help each other out. Once he explains his crazy idea that they should fake date in order for Laurie to save face at the firm and for him to be seen dating the partners golden girl can only help show them that he is not the reckless playboy they think he is.
What begins as a ludicrous idea soon brings the pair together as Laurie realizes that Jamie is not the playboy that everyone makes him out to be, he is actually a sweet, caring family orientated guy. Being with Jamie helps Laurie see that Dan was not her entire life and that she can be a strong independent woman without him.
"She'd never been called a survivor. She turned the word over her in mind: she liked how it sounded, applied to her. It wasn't victimhood and it wasn't self-aggrandising, it was about coping. And she had definitely done that."
I enjoyed Laurie and James story, they both had to deal with their own respective issues in order to realise that they are perfect the way they are. I loved how understanding Jamie was and his cute relationship with his best friend Hattie. It was refreshing not to have an alpha male that wanted to dominate over the female character. I truly liked the way they supported each other.
"I can only make you a promise." "Which is?" "Whatever happens next . . . you're my soul mate."
I found that Laurie was slightly down and depressed but all things considered she had every right to be. I am glad that she eventually found her worth even if it was only towards the end. McFarlane managed to mix together a lot of hard hitting issues with a good deal of wit and humour. The only major draw back from an otherwise enjoyable story was that I found it way to slow, everything was drawn out way to long. Other than that this was a pretty nice read.
Book Info:

Publication: March 24th 2020 | William Morrow Paperbacks |
If faking love is this easy… how do you know when it's real?
When her partner of over a decade suddenly ends things, Laurie is left reeling—not only because they work at the same law firm and she has to see him every day. Her once perfect life is in shambles and the thought of dating again in the age of Tinder is nothing short of horrifying. When news of her ex's pregnant girlfriend hits the office grapevine, taking the humiliation lying down is not an option. Then a chance encounter in a broken-down elevator with the office playboy opens up a new possibility.
Jamie Carter doesn't believe in love, but he needs a respectable, steady girlfriend to impress their bosses. Laurie wants a hot new man to give the rumor mill something else to talk about. It's the perfect proposition: a fauxmance played out on social media, with strategically staged photographs and a specific end date in mind. With the plan hatched, Laurie and Jamie begin to flaunt their new couple status, to the astonishment—and jealousy—of their friends and colleagues. But there's a fine line between pretending to be in love and actually falling for your charming, handsome fakeboyfriend…