An Innocent, A Seduction, A Secret by Abby Green is a sensual holiday set romance for a young woman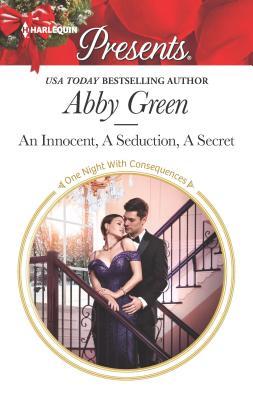 hired to decorate a jaded businessman's home, and the man who is captivated by her.
Edie Munroe has lived a lot of life in her short years. In her early twenties now, she went through a bout of cancer that left her shaken but defiant. In remission, she'd attempted to convey that defiance by catching the eye of a successful rugby player, Sebastio Rivas at a nightclub but he'd turned her down flat, recognizing her innocence and not wanting it to be spoiled by him. Shortly thereafter a tragic car accident took the life of Seb's best friend's wife and child, an accident for which he still blames himself. Though Seb doesn't remember Edie, when he sees her decorating a store front in a London shop it makes him nostalgic for the Christmas's he once shared with his grandmother and he hires her on the spot, not understanding the feeling of deja-vu he experiences around her but determined to play at having the holiday spirit for his party guests at his country home.
Edie knows exactly who Seb is when he hires her – the man still starring in her fantasies though she'd been humiliated by his dismissal of her in the nightclub years earlier. Still, the money from doing this extra decorating job is worth taking it, plus it will challenge her to use her skills for a bigger task. What she can't shake is her attraction to him, and when he obviously returns that attraction, it's the start of a heated affair. Though Seb is up front about their relationship lasting only as long as he wants it to and constrained of any real emotions, when the unexpected happens, will he turn his thoughts to something more permanent?
I really enjoyed this story! The Christmas setting is well done and I loved all the decorating scenes and the beautiful descriptions of Seb's house and the special clothing that he buys for her to wear to his parties. Their love scenes are sexy and emotional, and though Seb is at first hesitant when he finds out Edie is a virgin, she's quick to point out that it's her body and her decision for when she gets to share it with someone. She's pretty convincing and Seb can't turn her down a second time. I did notice the lack of condom use (which they realize after the fact) but Edie's cancer treatment has supposed rendered her basically infertile (though you can guess how that turns out!). Edie forces Seb to come to terms with his long time guilt, his feelings about the forced takeover of his father's bank business that drew him away from his first love of Rugby, and to decide what kind of a future he really wants. There's a sweet happy ending and an adorable epilogue. If you are looking for a lovely Christmas romance, I highly recommend this one!
Book Info:

Publication: Nov 20, 2018 | Harlequin Presents | One Night with Consequences
The virgin's Christmas surrender…
And a life-changing consequence!
When brooding Argentinean Seb Rivas spies elfin Edie Munroe's talent for lavish interior decoration, he makes an irresistible job offer—to spend the festive season decorating his opulent home, no expense spared! Their desire flares hotly and, snowed in together, Edie becomes the sensual gift Seb wishes to unwrap. But in taking her innocence, neither realizes their overwhelming passion could have such shocking results…