Winter Cottage by Mary Ellen Taylor: Masterfully constructed tale!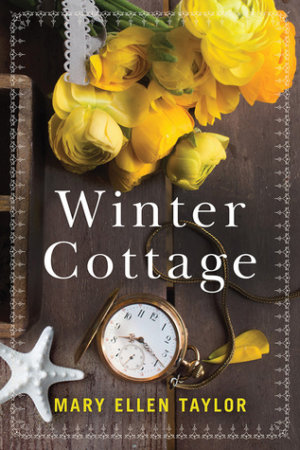 As she lay dying from cancer, Beth Kincaid begged her daughter, Lucy, to spread her ashes in Virginia. She couldn't explain why, but she was insistent. After she passed away, Lucy discovered she has inherited a house located in her mother's hometown. So, she packs what little she has, gathers up her mom's dog, Dolly, and heads to Cape Hudson, Virginia.
Once she arrives, she discovers she is the talk of the town, and everyone she encounters remembers her mother very well. She also discovers her new home is at the center of a big land deal that would greatly benefit Hank Garrison, the next in line to inherit the house if Lucy decides not to stay. But, the deal would also help the entire town, which puts even more pressure on Lucy.
However, Lucy is not so ready to accept the offered payout. She needs to understand why she inherited the house and how her mother figured into it. . As she searches for answers, Lucy becomes the protector of a young girl whose father is a mean drunk, and to complicate matters even more, she finds it difficult to dislike Hank, who obviously has a lot to lose if she decides to keep the house. Meanwhile, Lucy stumbles upon human remains on the property, which puts her at the center of a perplexing mystery.
This story is utterly absorbing!! Covering three different timelines, starting back in 1916, then flashing forward to 1988, where Beth is interviewing a woman who is nearly a century old, for a class assignment, and present day, where the reader keeps tabs on Lucy, and the unexpected revelations she must absorb.
I'm a sucker for books about old family secrets, and this one is packed with them! I really loved the tone and atmosphere, the mystery and poignancy, and the way time managed to bring long overdue closure and maybe even allow a few ghosts to finally rest in peace. While Beth's story is important as a conduit to the past, it's Claire Buchanan's tale that held me spellbound. Her compelling and heartbreaking story is one that will have a huge impact on Lucy in present day.
The writing is lush, the dialogue is realistic, and the characters are incredibly well-drawn, some likeable, some not, all playing their roles to perfection. I was so engaged, I didn't want it end!!
Book Info:

Publication: 9/25/18 | Montlake |
gripping novel about family secrets…and coming home for the first time.
Still grieving the loss of her wandering, free-spirited mother, Lucy Kincaid leaves Nashville for the faded town of Cape Hudson, Virginia. She goes to see the house she's inherited—one she never knew existed, bequeathed to her by a woman she's never even met. At the heart of this mystery is the hope that maybe—just maybe—this "Winter Cottage" will answer the endless questions about her mother's past…including the identity of her birth father.
Rather than the quaint Virginian bungalow Lucy expected, Winter Cottage is a grand old estate of many shadows—big enough to hold a century of secrets, passions, and betrayals. It also comes with a handsome and enigmatic stranger, a man next in line to claim Lucy's inheritance.
Now, as Lucy sifts through the past, uncovering the legacy of secrets that Winter Cottage holds, she'll come to discover as much about her family history as she does about herself. In searching, she could finally find the one thing she's never really had: a home.