In An Outback Affair by Iris Leach  Cassie has been looking after her nephew, Sam since he was 6 months old, after her sister's death. She never legally claimed his custody since she believed that nobody would contest her rights, especially the Caine family, considering Sam's dad lied to her sister and abandoned her.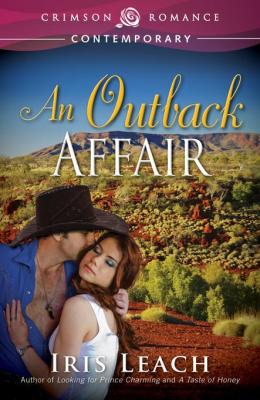 Joel Caine will do anything to help his mother recover and have a little happiness. Since the death of his brother, his mother has been on her deathbed, growing weaker and weaker. So when he finds out that he has a nephew, he will stop at nothing to bring him home to his mother.
At first Cassie believes that Joel only wants to take Sam away from her, so when he ask her to accompany them to their outback station she is surprised but happy that she will be close to Sam during this visit. But as they spend more time together, her attraction to Joel becomes more difficult to resist.
While at the station, Cassie will learn that not everything is as she believed it to be. And now she will have to decide if she wants Sam to be close to his family and learn what he will inherit in the future, or if she will be selfish and try to keep him to herself, something that she is very tempted to do.
Joel and Cassie do not expect love to come looking for them, but they will learn that love takes sacrifice and trust. If they want to become the family they can be together with Sam and Joel's mother living the simple life in the outback.
To me the characters were very well developed, so much that sometimes Cassie got on my nerves by how naïve she was about her sister, and how close-minded she could be about certain things. Joel is a very likeable character, and when you learn about his past you can't help but feel like hugging him and taking away his pain. But regardless of that he works hard for his family. He is sexy, well rounded, responsible and hard-working. What more could we ask for? 😉
Book Info
Publisher: Crimson Romance (April 8, 2013)
Cassie will fight to the end to keep Sam, the nephew she has raised since her sister Claudia was killed in an automobile accident. Sam's uncle, Joel Caine, has other ideas. He wants to share Sam. Trouble is, Joel lives on an outback station in the heart of Western Australia, nearly 2,000 miles from Victoria where Cassie and Sam live.
Cassie is adamant that she can't be parted for six months from four-year-old Sam. Joel stands firm. He wants Sam and he'll have him. Sam is heir to a fortune, and there is Joel's sick mother to consider. How can Cassie refuse Sam his father's family?
They come to an agreement. She will come with Sam for a few weeks on the horse station. Get him used to the idea of spending half the year with his uncle in the outback and the other half with his aunt in Melbourne. Trouble is, she's scared that once Joel has Sam on the station, he won't let Sam go. And how can Cassie fight Joel on his territory where he's lord and master of his domain?
And another thing, how can she fight her growing attraction she feels for the tall and totally hot Joel Caine?
Cassie's life is turned upside-down and the question is, will she ever be able to right it again?
Sensuality Level: Behind Closed Doors