Animal Attraction is an awesome anthology by some of my favorite authors. Not only does it have great stories, it is also for a very worthy cause that makes every dollar you spend worth it.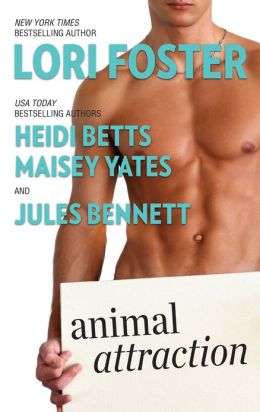 Buckhorn Ever After by Lori Foster:
In Buckhorn Ever we meet Shon Hudson, Casey's young brother and Sawyer & Honey's son. He is now a ranger and like the rest of the men in his family he has all woman in town wanting to join him in his bed.
Nadine has known Shon since they were kids and has always felt something for him. But he has always looked at her like just a friend and not a female at that. So when Shon starts making passes at her she does not believe that he is sincere and she does not want to just be another notch on his bed.
Shon will have a hard time convincing Nadine to give him a chance, but when a Hudson has been hit by love, there is no other woman out there that can take him away. Now he just needs to convince Nadine of that, something that will not be easy but that is definitely worth it.
Imagine Me and You by Maisey Yates:
Jace Colter is Samantha Parker's best friend, and now that Samantha has lost her home she needs his help while she finds a place to stay, a place that will accept her dog Poppy. While he would love to help Samantha, the sudden lust he has been feeling towards her can be inconvenient, for it can definitely put their friendship at risk.
But leaving Samantha out in the cold in not something he can do, even if he is a neat freak and having a dog inside the house will not help keep the house clean in any way. The downside to helping her is that being in close quarters with Samantha will definitely try the limits of his strength to keep things in the friends zone only.
Samantha has felt an attraction towards Jace too, but she cannot risk her friendship with him. He is the only person she has who is close to her knowing everything about her past and she cannot risk loosing him.
Samantha and Jace will have a hard time keeping their distance and living together will not help their resolve. But they sure have the chemistry and foundation for a good and long lasting relationship, if they will just allow a different and not so safe feelings into their lives.
Gimme Shelter by Heidi Betts:
Erica Castillo loves animals, and she will do everything she can to make sure that the animals she cares about are treated right. But when in the middle of the night, with a storm raging outside her doorbell rings, she is afraid that her friends will not help to keep her safe.
Dean Maxwell is a mechanic and Erica's next door neighbor. They have always had a wave hello and wave goodbye kind of relationship, but tonight he needs her help. He has found a box with kittens that was out in the middle of the storm behind his garage at work. They are half drowned and he needs help to keep them alive, and the only person he knows that might be able to help him is Erica.
As they work together to warm-up and feed the kittens an attraction that neither had realized before, blossoms between them. But spending the night taking care of the kittens will not keep them together for long if Dean doesn't do something to make sure to keep a close relationship going. If he has to use the kittens to that end then so be it.
Dean and Erica will begin an affair and relationship; with the glue that keeps them together are the kittens and their love of animals. But when Dean believes that he cannot keep the kittens and provide the proper home they need, his relationship with Erica may just end. For she believes that a person that has bonded with an animal should not be able to get rid of it that easily, and if he does then that person may just not be worthy of her love.
Erica and Dean will have to look deep inside themselves and find out what is truly worth having and doing, and if their actions are really the right ones or if they are making a mistake.
Partner in Crime by Jules Bennet:
Abel is house-sitting and taking care of his sister Leah's animals while she is deployed and he is forced out on early retirement while he heals from an injury. But he won't give in easily, he wants to return to his job as a detective in the police force and he will do everything he can to get the all clear from his doctor to return to the force. In the meantime he is out in the yard taking pictures of the guinea pig inside the ball to send to his sister. That is until a dog decides to come and snatch the ball and make a run for it.
Saige is Leah's next-door neighbor, and the dog that ran away with the guinea pig is her pit-bull Fuffly. Saige returns the ball with the guinea pig to Abel and introduces herself, but she is happy that he is the brooding type as his sister described him. It looks like he won't be a problem to her side job.
When Abel sees Saige leave late at night dressed in all black and return later and asks for his help to remove an injured dog from the backseat of her car, he knows that she is up to no good. Him being a cop just makes things more interesting, for her actions are those of someone breaking the law.
As Abel and Saige start a very reluctant truce and friendship, Saige's night activities start putting her in danger. And Abel's instincts are to protect her, especially when he finds out what is really going on with her side job. But keeping her safe may just tear her away from him and he will have a hard time explaining to her the danger she is putting herself in and find a way to show her that he cares and how he can help her on those night runs.
Great stories with great meaning behind them both romantically and with the animals that are in each and every one. Don't miss Animal Attraction by Lori Foster, Heidi Betts, Maisey Yates & Jules Bennett I assure you won't regret it.
Book Info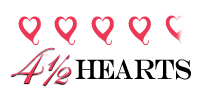 Four of today's most popular romance authors introduce four sizzling new tales of finding love unexpectedly—with a little help from man's best friend. Includes an all-new Buckhorn Brothers story from New York Times bestselling author Lori Foster!
The authors are donating all of their proceeds from Animal Attraction to the Animal Adoption Foundation of Hamilton, OH, a charitable organization.
Anthology includes:
Buckhorn Ever After by New York Times bestselling author Lori Foster
Imagine Me and You by USA TODAY bestselling author Maisey Yates
Gimme Shelter by USA TODAY bestselling author Heidi Betts
Partner in Crime by Jules Bennett