In Scarlet Lady by Sandra Chastain, Katie Carithers comes from a prominent southern family but her world comes unraveled when her parents die in plane crash. Not only has she just lost her parents, they left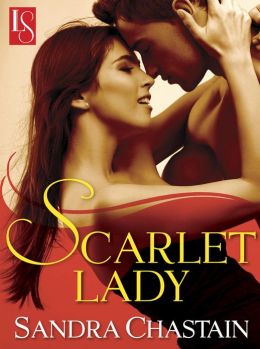 everything to her brother, who then looses it all at a high-risk poker game.
Now their plantation and everything is at risk and it is up to her to try and win the markers against her farm back. With some careful planning Katie believes she can win it back from Rhett Bulter Montana. What she doesn't expect is the instant and undeniable chemistry and attraction she feels towards him.
Rhett Bulter Montana, known by everyone as Montana, is the owner of the riverboat casino Scarlet Lady, and he is used to running it as the rogue he is named after. What he doesn't expect is the lady dressed in a tiny red dress to dare him to play her for everything he owns. But when Katie wins against him, Montana suspect that she has cheated. Now the stakes have been raised, one-hand of poker has ignited a passion play with two hearts at stake.
Montana has already lost everything once as an outlaw for the passion of a woman, so now he will have to find a way to convince this lady to be his good luck charm instead. While Katie's inner no-nonsense accountant may raise a bit of a battle, the chemistry and attraction will have the final say.
For a fun, sweet and cute story with a no-nonsense heroine and a very hot alpha male, don't miss Scarlet Lady by Sandra Chastian.
Book Info
Publisher: Loveswept (June 10, 2013)
Katie Carithers walks onto the riverboat casino Scarlet Lady with just one intention: win enough money to pay off her brother's debts and save her family's Louisiana plantation. A no-nonsense accountant by day, Katie decides that tonight she'll wear a tiny red dress and be a sexy gambler—albeit one with an uncanny head for numbers and odds. But when Katie lays eyes on the handsome owner of the Scarlet Lady, all bets are off, as he quickly threatens to take more than her money with his roguish charm.
The man everyone simply calls "Montana" runs his Mississippi River casino like the tightest ship in the navy. But the night the brunette in the red dress appears, Montana feels his steely control waver. He's never been so overwhelmed by a woman, not since he lost the courage to love years before. When the woman in red wins, Montana suspects that she has cheated—and just like that, one hand of poker ignites a passion play with the highest of stakes: two hearts.