In Animal Magnetism by Jill Shalvis, Brady Miller returned to Sunshine, Idaho, to check in with his "brothers" Adam and Dell after they finally badgered him into making the trip. He figured he'd take a few days of well deserved rest after working nonstop as a pilot-for-hire all over the world. Being stateside, especially in such a small town, has him a bit off kilter, so he's thrown even more off guard when sexy little Lilah Young rear-ends his truck at the local convenience store. She runs the local kennel and has got her hands full with a vehicle full of animals she's babysitting. Brady takes pity on Lilah and drops her, and her menagerie, off at the kennel on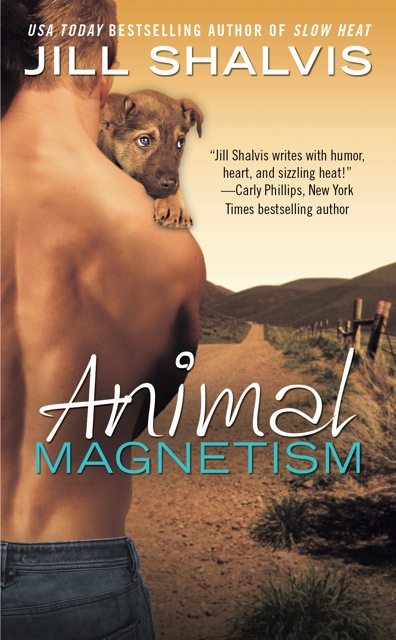 his way to meet Adam and Dell. Sparks immediately fly, though, and he knows he'll have to be careful if he should happen to run into her again.
"I want you," he said, and stroked a finger over her shoulder, evoking a shiver. " I usually put what I need ahead of what I want, but with you the line blurs."
It turns out that Lilah just happens to be close friends with Adam and Dell, so Brady runs into her almost immediately. His brothers are very protective of her and are obviously not thrilled that he is interested in Lilah. Even after being forewarned, he can't stay away from her. The chemistry between them is incredible and he's never found himself enjoying spending time in any woman's company so much. Brady made it clear in the beginning that he isn't sticking around and Lilah agrees that she isn't looking for anything longterm either. They spend an incredible month together with some wild adventures mixed in and before he realizes, his time in Sunshine is almost up. But just when he's concerned that he'll break Lilah's heart when he leaves, he figures out it's his own heart he needs to worry about.
"Sighing, Lilah pulled open her books to study, but she had trouble concentrating. Her mind was on the new strays. Toby, of course, but also the six foot, blue-eyed, badass stray who'd kissed like heaven on earth."
Lilah Young can't believe it when she rear-ends the truck. She's had a crazy morning, as always, and has to get back to work at the kennel. Just when she thought it couldn't get any worse, the owner of the truck is none other than the handsome stranger she was admiring from afar. And now he thinks she's crazy. Thank goodness he is kind enough to give her a ride home when her vehicle won't start up and he even tolerates the animals she had to bring along for the ride. Lilah is rocked to her core by the electricity flying around them and even more so when they share a smoldering kiss. She hasn't wanted to admit to herself how lonely she's been without any romance in her life and wonders if Brady would be a safe choice for a fling. He's leaving shortly so there would be no strings attached. Just fun. What starts off as a short-term liaison starts to feel pretty intense before long. Lilah knows Brady isn't the type to stick around and put roots down, but a girl can hope she can be the reason a guy changes his mind, right?
Jill Shalvis has become one of my favorite, go-to authors. There is just something about the way she tells a story that resonates with me. The characters she created in this story were simply perfect (or perfectly imperfect); not only our hero and heroine, but the secondary characters as well. Brady has military strength and fortitude but underneath it all he's broken, and doesn't realize it until he finds safety in Lilah's arms. Lilah on the other hand knows she's had a tough life but is strong and independent despite it all. She loves with everything she has and in doing so has created her own network of friends she considers family. Seeing both Lilah and Brady finally give in to love was tear-worthy to this sappy reader! I highly recommend this book if you love stories with a huge heart, lots of humor, one seriously hot, naughty alpha male, and an endearing, Dr Doolittle-esque woman.
Book Info

Release date: February 1, 2011 | 
Series: Animal Magnetism
 #1
Co-owner of the town's only kennel, Lilah Young has lived in Sunshine, Idaho, all her life. Pilot-for-hire Brady Miller is just passing through. But he soon has Lilah abandoning her instincts and giving in to a primal desire.It's Brady's nature to resist being tied down, but there's something about Lilah and her menagerie that keeps him coming back for more.