In Any Day Now (Sullivan's Crossing #2) by Robyn Carr, Sullivan's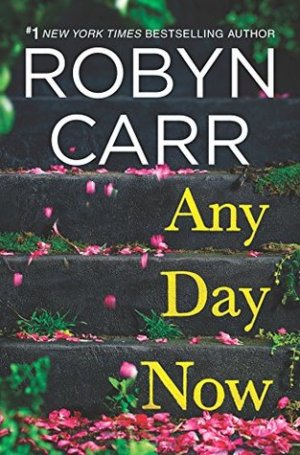 Crossing, Colorado, is the last place Sierra Jones thought she would end up. But an invitation from her big brother Cal and his wife Maggie to visit came at exactly the right time, just when she was looking to start over. After a past checkered with bad decisions and even worse choices in men, Sierra finds the Crossing to be a beautiful place to heal. Meeting the locals, especially bonding with Maggie's straight-talking father Sully, she feels like she's found home at last. But when firefighter Conrad Boyle walks into her life, shaking up her emotions, Sierra hopes she's learned enough from her mistakes that she'll be able to give their relationship a try without messing things up.
"Conrad Boyle, I think you must be about the nicest guy I've ever met."
He grinned at her. "See, you're coming around. That's good."
"Don't get any ideas."
"Sierra, I've had ideas since about the minute I met you. I figure it's only a matter of time."
Conrad, better known as Connie, has been burned in love before. And he's told himself he's not willing to get serious with a woman ever again. Up until he meets sassy, beautiful Sierra, he almost had himself believing he could keep things casual pretty much forever. But one look at her and it was too late. Connie is attracted to everything about her: her intelligence, easy smile, how caring she is, especially how she rescued her new dog Molly from an abusive situation. But he also knows Sierra has something from her past that she won't share with him quite yet. When trouble shows up in town putting her at risk, Connie knows between him, Cal, and Sully, they'll keep her safe so hopefully he doesn't lose his chance at a promising future with her.
'She, like him, had no confidence real love would ever find her. He understood the feeling. But damn, he wasn't ready. He might never be ready. He'd been getting by just fine so why now? Why her? Look out, Connie, he told himself. Looks like you're going down…'
Any Day Now, book two in Robyn Carr's Sullivan's Crossing series, was a captivating story filled with small town charm and a lovely sense of community, a cast of likable characters including a cute rescue dog named Molly, and two blossoming romances sweet enough to make a reader girl sigh happily.
Robyn Carr is one of my go-to authors in contemporary romance. I've followed her work since her Virgin River series began, through its spinoff Thunder Point series, and now with Sullivan's Crossing. And the one thing that never changes (thankfully!) from book to book and series to series is that Carr writes *real* people. Her down to earth characters have a wide range of backgrounds, experiences, and jobs, but what they all have in common is that they have real life issues to overcome. And it's those people around them, family, friends and community, who help lift Carr's characters up and help them through troubling times. That, in a nutshell, is what Any Day Now was all about.
I fell in love with how Carr described Sullivan's Crossing in book one and with the eclectic mix of people who live there year round and visit during the tourist season. And if you've read What We Find then you'll be happy to catch up with Cal and Maggie, Sully, Tom (who gets his own romantic storyline here), and a bunch of other characters. Although this can easily be read as a standalone. But as much as I liked book one, I'll admit I was knocked head over heels for Any Day Now right from page one. I will caution that parts of some character's backgrounds may be triggers for some readers and involves: cheating, rape, physical and emotional abuse, and even stalking. So be forewarned.
Sierra and Conrad (Connie) were such fun, strong characters to get to know and they kept me smiling while guessing if they would finally give in to their attraction. They started off a little rocky, neither of them looking for a romance after dealing with their own troubles in the recent past. So they bickered like teenagers at first, which was done in a comical way, with Carr's trademark dry wit that I enjoy so much. But once Connie and Sierra gave in to their feelings? Whew…look out. Sparks flew in a major way. And to me, they seemed to fit together as a couple perfectly. Both of them were brave, kick-butt people in their own way who had been through heartbreaking circumstances and came out changed but still hopeful. And that sense of hopefulness carried throughout the story as things spiraled out of control, for Sierra especially, toward the end of the book.
Romances don't get much more solid and heartwarming than Any Day Now. If you're a newbie to Robyn Carr's work, this would be a great place to start. But if you're already a fan, then this will just reinforce why her books are so popular and well-loved in the reading community.

Book Info:

Publication: April 18th 2017 | MIRA | Sullivan's Crossing #2
For Sierra Jones, Sullivan's Crossing is meant to be a brief stopover. She's put her troubled past behind her but the path forward isn't yet clear. A visit with her big brother Cal and his new bride, Maggie, seems to be the best option to help her get back on her feet.
Not wanting to burden or depend on anyone, Sierra is surprised to find the Crossing offers so much more than a place to rest her head. Cal and Maggie welcome her into their busy lives and she quickly finds herself bonding with Sully, the quirky campground owner who is the father figure she's always wanted. But when her past catches up with her, it's a special man and an adorable puppy who give her the strength to face the truth and fight for a brighter future. In Sullivan's Crossing Sierra learns to cherish the family you are given and the family you choose.