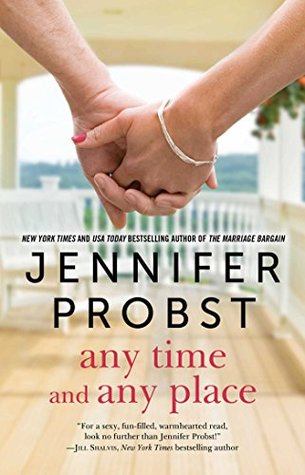 In Any Time, Any Place (Billionaire Builders #2) by Jennifer Probst, Raven Stratton held a grudge against the Pierce family for years after her father and their mother died together in a car crash heading to Paris, and were apparently leaving their families behind. It's taken her years to finally let go of the animosity. But just when Raven has settled down and opened up her own bar, My Place, in Harrington, she finds out the successful Pierce brothers live in town as well. The past and her nightmares come rushing back but it's her traitorous attraction to Dalton Pierce that really causes her concern. Giving in to temptation feels like she's betraying her father's memory, especially considering Raven hasn't yet told Dalton who she is. If she takes a chance to explore their chemistry will she be setting them up for failure, given the painful secrets she'll have to reveal?
"Sorry, Slick. I'm very choosy about who touches my bar. You're not on the list."
A stubborn light shone from his eyes. "Then I'll have to find a way to get on your list, won't I? Because I want it bad, Raven. Real bad."
Holy crap, her body practically wept with the need to shoot over the bar they were talking about, fist his shirt in her hands, and kiss that lush, sinful mouth.
From the moment Dalton sets eyes on Raven, he knows there is no getting around their mutual desire and he will do anything to spend some quality time with her. She's known for brushing off guys' advances so he's not worried when he crashes and burns at first. Actually, Dalton finds it rather hot. But her occasional icy attitude towards him gives him pause. He's learned a lot over the years about women and he's sure there's something under the surface that Raven isn't telling him. When he finally gets to be around her more as he's restoring her antique bar, he realizes that his feelings are much stronger for her than he first thought. Typically into casual relationships, this leaves Dalton reeling and wondering if he's getting in too deep.
"…Love is just a word until it's attached to a person. I didn't understand what it felt like to want to be with one person longer than a night or two. With you, I saw beyond. When I think about my future, I see you, sweetheart. Only you."
Any Time, Any Place was a sexy contemporary romance that found our hero and heroine's pasts tangled up together–and not in a good way. But it also had a nice playful undertone, as well as a wonderful sense of family and friendship, as only Jennifer Probst can write it.
'Dalton Pierce.
A man she'd vowed to hate and the one man she was crazy attracted to.
The one man who held the key to a past she didn't want to unlock.'
I've read and enjoyed a lot of Jennifer Probst's books and the first thing I think of after I finish each one is how she always creates an amazing connection between her characters. Whatever type of relationship, whether it's romantic, strictly friendship, or a family bond, the feelings and dialogue are spot-on. That couldn't be any more true of Any Time, Any Place. We had an instant attraction between main characters Dalton and Raven (I love the names Probst uses!), the Pierce brothers were still learning to coexist again after about five years apart, and then we had the cute girl crush Morgan and Sydney had on Raven. All of these friendships and relationships were woven together making this a much richer story with layers of emotions.
Raven and Dalton were really cool characters in my humble opinion. They seemed so different at first glance: Raven was kind of a bad girl, with her tattoo and nose ring, and comically gave the guys in her bar the brush off when they hit on her; Dalton was a laid back woodworking artist who had a reputation as a ladies man. But I loved that once they got to know each other, they realized they had many things in common, which kept their steamy bantering that much more interesting. Both Dalton and Raven made some mistakes along the way–Dalton especially did something even *I* was angry/shocked over–and their journey was certainly not an easy one, but it felt like their evolution as a couple was a real one. Oh, and for those of you who've read book one and have been wondering about what really happened when the Pierce brother's beloved mother took off with Raven's father years ago, we do get closure to that thread in the storyline here.
With a slow-building romance, complicated family issues, and trust being broken and then repaired, Any Time, Any Place will be sure to win over romance fans. The Billionaire Builders series has been everything I've hoped for and I have a feeling that Tristan's story coming up next will be another stellar addition to it.
Book Info:

 Expected publication: January 24th 2017 | by Gallery Books | Billionaire Builders #2
HGTV's Property Brothers meets The Marriage Bargain in this second volume in the Billionaire Builders series, an all-new heart-wrenching and sexy contemporary romance from New York Times bestselling author Jennifer Probst.
When she was a teenger, Raven Bella Stratton's father was killed in a horrible car crash. The bigger shock was the discovery of a woman with him—Diana Pierce—and their two fully packed suitcases with airline tickets to Paris. Devastated by her father's betrayal, Raven went to live with her aunt, never truly overcoming the traumatic event. When she discovers that the mysterious woman had a family with a husband and three boys, Raven vows to leave the memory of her father behind.
Until Dalton Pierce visits one night and suddenly her past challenges her future…
Leaving his life in California behind to run Pierce Construction with his two older brothers, Dalton Pierce has enjoyed returning home and studying his passion of woodworking. But when he visits the local bar with his brothers one evening, he's immediately drawn to the smart-mouthed, badass, sexy bartender who sets his body on fire. Unfortunately, she doesn't seem as intrigued by him, and his multiple advances are met with rejection. When he offers to restore the bar back to its original glory, he begins to work with her on a daily basis, and falls harder. His plan of seduction slowly weaves a web around them both, until they are caught up in the spell. But Dalton doesn't know the secret that can either destroy them both…or finally mend two broken hearts.