In Anything for You (Blue Heron #5) by Kristan Higgins, Restaurant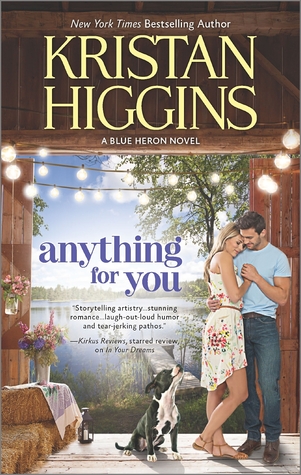 owner and chef Connor O'Rourke has been in love with local beauty Jessica Dunn since they were in middle school. Theirs has been a rocky relationship over the years, but he's never stopped believing that they'd finally end up together. Well, until he proposes and she turns him down. That kind of put a damper on things. But now Connor sees he has to prove to Jess that he will be the one person in her life that will never let her down, even as she keeps pushing him away.
"I don't want anyone but you," he said, lips moving against her skin. "Stop telling me to find someone else."
Jessica may have grown up rough in a trailer park with alcoholic parents and a special needs younger brother, but she's become a harder worker and a more self-reliant person because of it. Known as Jessica Does in high school for her earned reputation, she's changed greatly over the years and only has eyes for Connor. Things are always complicated between them and putting her brother Davey's needs first is a given, but also a setback to their relationship. When Connor surprises her with an ultimatum, will Jess let herself believe happiness really can happen in her life?
'She was so tired of being Jessica Does. So tired of being afraid and alone and taking care of everything all the time. She just waned to be. To be normal, to be happy, to be light.'
Anything for You was a touching love story of two people whose timing was unfortunately always off. Written by one of the most solid romance writers out there today, Kristan Higgins, I was charmed and put through the emotional wringer right along with Connor and Jessica.
One of the things that I admire most about Higgins' writing is that she has a knack for finding the perfect balance between dealing with serious issues while keeping a current of humor winding through her stories. I think Anything for You was a prime example. The subject matter was a range from Fetal Alcohol Syndrome to poverty to cheating spouses and much more. But on the other side was the fun 'twinsy bond' between Connor and his twin sister Colleen, as well as the comical critters everyone seemed to have in their households. And it worked exceedingly well with the way this book was set up.
I'm not kidding when I say that Connor and Jessica's lives never seemed to match up time-wise. We got to go back and forth between the past and present to see exactly what they went through together over the years. I'll admit that as the story progressed I waffled a few times with both Jess and Connor's part in the relationship. Of course they both made mistakes, but the romantic in me just wanted to see them get it together finally and give in instead of finding excuses. Thankfully it all ends very, very well!
Davey, Jessica's brother, was a standout character to me. I loved both of our main characters very much, but the way Higgins' brought him to life and portrayed him so realistically was wonderful. I thought the interactions between Davey and Jess were some of the most emotional ones in the entire book. Especially when we got to 'hear' her inner thoughts on how much her younger brother made her life better. I get tears in my eyes just thinking about it. Although, when Connor and Davey have their own bonding moments toward the end, that just made the whole story come full circle for me. *sigh*
Emotions ran high as did the family drama in book five of the Blue Heron series. If you've been looking forward to seeing how things would play out between Jessica and Connor as much as I have, I think you'll be very pleased with Anything for You.
Book Info:

Publication: December 29th 2015 | by HQN Books | Blue Heron #5
Before you get down on bended knee…
…you should be pretty darn sure the answer will be yes. For ten years, Connor O'Rourke has been waiting for Jessica Dunn to take their on-again, off-again relationship public, and he thinks the time has come. His restaurant is thriving, she's got her dream job at Blue Heron Vineyard—it's the perfect time to get married.
When he pops the question, however, her answer is a fond but firm no. If it ain't broke, why fix it? Jess has her hands full with her younger brother, who's now living with her full-time, and a great career after years of waitressing. What she and Connor have is perfect: friends with an excellent benefits package. Besides, with her difficult past (and reputation), she's positive married life isn't for her.
But this time, Connor says it's all or nothing. If she doesn't want to marry him, he'll find someone who does. Easier said than done, given that he's never loved anyone but her. And maybe Jessica isn't quite as sure as she thinks…