In Archangel's Prophecy (Guild Hunter #11) by Nalini Singh, Since becoming the consort of Archangel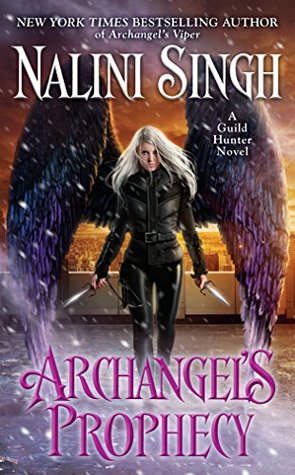 Raphael, one of the most powerful Archangels in the world, Elena Deveraux has become part immortal–and one of the first hunters to be made into an angel. While the Cascade is still causing disturbances all over the world, Elena begins to notice changes in her abilities and physical presence. Her wings are the first concern. No longer do they feel strong or allow her to soar through the sky unworried. And then other ailments pop up, making Elena appear to become more and more human each day. Worried about what would happen to Raphael's smidge of humanity should something drastic happen to her, Elena sets her mind on finding a way to fight the Cascade, as well as the prophecy being whispered into her mind by an Ancient who is slowly waking.
"That's how we fight this. Together… You're a little bit mortal and I'm a tiny bit immortal. We did that to each other. We created the wildfire… We'll beat this together. The one thing we won't do is surrender who we are to this menace."
The changes have been drastic, but for the better, in Raphael's life since finding his hunter Elena and entwining their worlds together. Even as a powerful leader, he cherishes his consort's astute thoughts on how he rules his region–and he admittedly loves her snarky comments just as much. So to be told that Elena is regressing and seemingly turning back into her human self? There is nothing Raphael wouldn't do to make it stop. If he has to raze the world and fight untold battles, it will be worth it to keep his hunter safe. But he should realize after all they have been through that his Elena wouldn't allow him to fight on her behalf. She will, however, agree to combine their knowledge and power to try to defeat the Cascade. And that is all that Raphael wants: a fighting chance to save the woman who rules his entire world.
"Fight, hunter-mine," he said, not knowing if she could hear him…if she'd ever hear him again. "You have always written your own history. Now write ours."
A romance that transcends time. A scary prophecy and a whole host of terrible new threats against our warriors. Nalini Singh proves once more that she knows just how to play on her readers' emotions with her dazzling new novel, Archangel's Prophecy.
Raphael didn't smile, couldn't smile, the coldness in him the spaces between stars. "I will undo the universe for you."
I don't even know where to begin with this installment of the Guild Hunter series. To say this was a game changer is putting it mildly. It was a roller coaster ride from page one until literally the final page–I'm talking up to the final word–and Nalini Singh kept me in constant awe of her storytelling ability through it all. The incredible attention to detail along with the carefully woven plot took this book (and series) to new heights. I definitely would suggest reading at least the last couple of books, if not the whole series, in sequential order as this is a continuing story arc that honestly feels like it has been building until this moment. The way Archangel's Prophecy left off, with a wee bit of a cliffhanger, I have a feeling that book twelve will feel like a reawakening of sorts for fans of Elena and Raphael's romance.
I think what I loved about this particular book was not only the thrilling twists and turns the plot took, but how convincingly Singh was able to portray Raphael and Elena's intense love and dedication for each other. It's always been there in the previous installments I've read, of course, but given the changes and potential tragedy they were facing down, well, it seemed even more magnified. There might have been a lot of dark subject matter to get through during an investigation Elena spearheaded: drug use, torture, murder, and even mention of sexual abuse and prostitution, but there was still enough lighthearted moments–and inspiring scenes–to balance it out. Elena's outspoken comments and her battle of wills with certain vampires (cough, Dmitri, cough) were enough to make me smile. Let alone getting to catch up with the rest of Raphael's Seven and the other angels and vamps that call NYC their home.
The Cascade's reign of terror didn't let up in the latest thrilling addition to Nalini Singh's popular Guild Hunter series. Many changes will be happening as this story continues, and I absolutely can't wait to see how it all unfolds.
Book Info:

Publication: October 30th 2018 | Berkley | Guild Hunter #11
Return to New York Times bestselling author Nalini Singh's darkly passionate Guild Hunter world, where human-turned-angel Elena Deveraux, consort to Archangel Raphael, is thrust center stage into an eons-old prophecy….
Midnight and dawn, Elena's wings are unique among angelkind…and now they're failing. The first mortal to be turned into an immortal in angelic memory, she's regressing. Becoming more and more human. Easier to hurt. Easier to kill.
Elena and Raphael must unearth the reason for the regression before it's too late and Elena falls out of the sky. Yet even as they fight a furious battle for Elena's very survival, violent forces are gathering in New York and across the world.
In China, the Archangel Favashi is showing the first signs of madness. In New York, a mysterious sinkhole filled with lava swallows a man whole. In Africa, torrential monsoon rains flood rolling deserts. And in Elena's mind whispers a haunting voice that isn't her own.
This time, survival may not be possible…not even for the consort of an archangel.