Awakened By His Touch by Nikki Logan: Elliot knows he has a gold mine on his hands. The Morgan's bee farm can do – no can BE so much more. And Laney Morgan is the hinge upon which it all swings. But for some reason, she's content to stay stagnant. She can't see that he can take them to a much more successful place, to a place where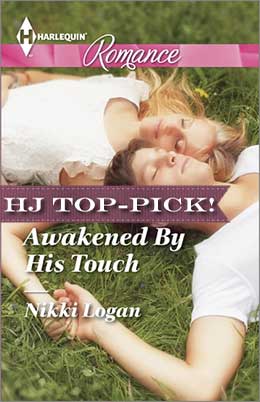 their future will be secured.
Laney is happy, and happiness is all that matters. That's all she needs, and she has no aspirations for more, for greater heights, to *be* bigger than what she already is. Her entire life has been spent being the poster child in her town for the blind girl who can do anything she sets her mind to because of her father's guilt, and now she's simply trying to live her life. Can't that just be enough?
It doesn't hurt that Laney and Elliot have a connection. He doesn't start off understanding how Lanie 'works', but he knows instinctively how and what to ask, and his thoughtfulness touches her. He gets her in a way nobody else figures out – and even though it's unsettling, it's also the relief of a burden she's carried for years. Someone she can talk to who will understand how her life works. At least until she figures out the motivations behind the actions… and then all hell breaks loose.
First, I want to say that this book is UBER squeaky clean. But soooo romantic. Guh. Swoony even. I loved it soooo much.
Learning about Lanie and her family was a treasure – even Owen, who we hardly know until nearer the end of the book, amazing. Elliot is less complicated, and his story is fairly predictable, but it's okay since Laney's is the focus. I adored how Elliot knows exactly how to come back to Laney – and seriously… I cannot stress this enough – be prepared to cry shedloads in the Epilogue.
Five stars. LOVED. IT.
Book Info:

Published March 4th 2014 by Harlequin Romance Series #4418
Laney Morgan may be blind, but she's no pushover. When Elliot Garvey walks into her life wanting to globalize her family business, she plans to make him work for it.
Work Hard, Play Hard may be Elliott's motto, but being around the irresistible Laney, he starts to see a new world through her eyes. But he's here strictly for business…
Until Elliot guides Laney's hand to his face. They can't ignore the chemistry, especially the realisation she's about to be awakened to a world she never knew.