Awakening His Innocent Cinderella by Natalie Anderson: Gracie is a creative and talented baker. She's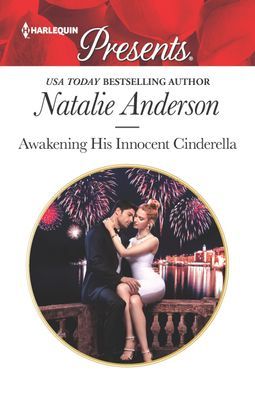 made a home for herself in an Italian village, despite speaking passable Italian. She's put down roots for herself and appreciates feeling needed and helping others. Gracie is generous, loyal, and always looking out for others. Rafael is quite the opposite of Gracie as he is arrogant, cynical, and often demanding. He's sexy, suave, worldly, and wealthy. He's not at all sentimental and doesn't believe in love.
Gracie is surprised to run into Rafael while doing a favor for a friend. He's intimidating, overwhelming, and makes her flustered. Their attraction is immediate and he is surprised when she doesn't just fall at his feet. Rafael doesn't do relationships and Gracie is the type who would look for love and commitment.
'I think that's my line. Again.' He watched her coolly, decidedly unimpressed. 'This is my house.
You're the invader.'
'I'm so sorry.' She pulled on a smile and hoped he'd forgive her. 'Wasn't expecting you to be home.'
'Clearly not.'
Despite their differences, they are connected. He pulls her out of her comfort zone and introduces her to new experiences. She challenges him to see life differently and they bond over their pasts. He's protective, possessive, and maybe willing to bend his own rules for her.
'Do you take everything so seriously?'
'Do you take everything so flippantly?'
'Not everything. No. But life is for living.' He tugged her closer. 'You should live a little.'
She smiled at that. 'That was a lame attempt at persuasion. I think you can do better.'
Awakening His Innocent Cinderella is sexy yet endearing. Natalie Anderson provided banter, conflict, surprises, heat, and romance with an interesting cast of characters. Fans of Melanie Milburne and Susan Stephens will enjoy Awakening His Innocent Cinderella.

Book Info:

Publication: Published December 18th 2018 | Harlequin Presents |
Will she resist his scandalous proposition…
Or succumb to mindless pleasure?
Softhearted Gracie James is mortified when Rafael Vitale finds her accidentally trespassing on his luxurious Italian estate! She can't refuse Rafe's teasing demand that she attend an exclusive party with him. From the dangerous intensity in his eyes, virgin Gracie knows she's playing with fire—after all, outrageous playboy Rafe is only promising a temporary liaison. Can she resist the power of his raw sensuality?
Be seduced by this spellbinding Cinderella story!