In Summoned to Thirteenth Grave (Charley Davidson #13) by Darynda Jones, Charley Davidson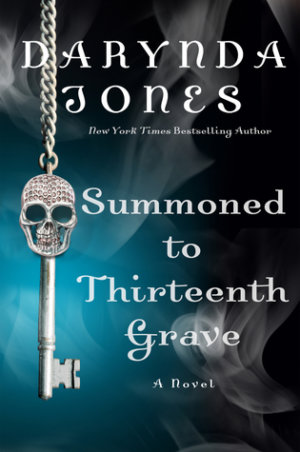 learned the hard way that breaking the one rule she has as the Grim Reaper has severe consequences. At least, that's what she would consider being exiled to a dark realm–and with no coffee!–for a century to be. Eventually Charley is allowed back to Earth, hoping that her sexy-as-sin husband Reyes hasn't forgotten about her and that she hasn't missed their daughter's rise to fight for mankind. And while a lot has changed once Charley is back in Albuquerque, she does get to reunite with her loved ones.
'I had been given one rule, one law to abide, and I broke it for my best friend…
And in the one hundred years I'd spent in darkness, alone and tormented, I'd never regretted it. Not once. And I never would.'
It's not all fun and games and trips to the coffee shop, though, as is typically the case for Charley. There's something evil overtaking her beloved town and its residents, something that she will have to fight against to protect those she cares about. But as Charley makes a game plan and enlists the help of Reyes, Osh, Angel and the rest of her crew, she knows there's something she's missing. Some tidbit that can break things wide open and explain not only what's happening but how to stop it. As usual, the answer is there all along. Just in the least likely of places. And once Charley figures it out, she has no plans of backing down or of losing the battle against evil.
'I didn't understand what any of it meant… Nothing connected. Nothing fit together. I liked puzzles as much as the next girl, but this was getting ridiculous.'
The. Final. Book. *sob* Summoned to Thirteenth Grave is the last official installment in Darynda Jones' popular Charley Davidson series. A book that I've been longing to read and yet putting it off as I didn't want to say goodbye to this kooky cast and all of their awesomeness.
"It's entirely on me. All this sickness and destruction… Who could've guessed that one day little Charley Davidson, coffee addict and aspiring dog groomer, would cause the extinction of the entire human race? This is going to look so bad on my resume."
Charley was back and better–and snarkier–than ever in this fast-paced, thrill ride of a novel. I'm going to have to tread lightly here so as not to give any spoilers because…wow…SO much happened. As you can see from the book blurb, Charley made it out of exile and found her way home to Albuquerque to her beloved Reyes. From there all hell broke loose. No really, a hell dimension broke loose and the remainder of the book was spent with Charley & crew fiercely trying to save mankind. And with her looking out for her loved ones. Well, that is as soon as she had her first cup of coffee in a century. You know, priorities. (lol)
Darynda Jones didn't hold anything back in this final book. There were tears shed, much laughter, and lots of gasps of surprise with all of the shocking revelations she threw at us fans. (aka: Grimlets) It seemed everyone had a secret they were holding onto. Even Reyes. And Uncle Bob. I was so happy that we got to see all of the crazy characters we've come to adore over the course of this series and that Jones didn't skimp on the jokes or the poignant moments that made me burn through the pages as quickly as I could. I have a feeling, though, that based on how this ended, there might just be a spinoff series or something else in the future. A reader girl can only hope…
Comical enough to make you laugh out loud and emotional enough to make you sigh and get misty-eyed, Summoned to Thirteenth Grave was a wildly entertaining finish to a spectacular series. Thank you, Darynda Jones, for giving us an unforgettable character like Charley–and for doing right by your fans. As always.
Book Info:

Publication: January 15th 2019 | St. Martin's Press | Charley Davidson #13
Grim Reaper Charley Davidson is back in the final installment of Darynda Jones' New York Times bestselling paranormal series!
Charley Davidson, Grim Reaper extraordinaire, is pissed. She's been kicked off the earthly plain for eternity – which is the appropriate amount of time to make a person starkraving mad. But someone's looking out for her, and she's allowed to return after a mere hundred years in exile. Is it too much to hope for that not much has changed? Apparently it is. Bummer.
She's missed Reyes and her daughter, Beep, but now that she's back on earth, it's time to put to rest burning questions that need answers. What happened to her mother? How did she really die? Who killed her? And are cupcakes or coffee the best medicine? It all comes to a head in an epic showdown between good and evil in this final smart and hilarious novel.