Awakening His Shy Cinderella by Sophie Pembroke: Rachel had hoped to be out on her own by her late twenties, but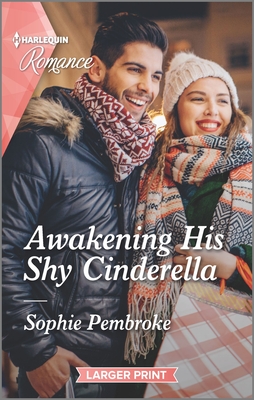 her father's health issues have kept her in the family business. She has been able to use some of her talents to set up special window displays at the large store, but often she is relegated to work the floor like any other employee. Part of the reason for this is her father re-married just a couple years after her mother died. He wanted her to have a new mother, but she ends up with a "wicked' stepmother and two stepsisters. They do things to bully her in some ways such as remarking on her body, which is curvy rather than tall and thin like hers.
The one good thing in Rachel's life is her best friend Celeste. Celeste loves Rachel just the way she is. Of course, Celeste is the polar opposite of Rachel's personality. While Rachel is rather shy and a conflict avoider, Celeste is never afraid to speak up.
Through Celeste, Rachel gets re-acquainted with Damon. He is a handsome and smart, but is known for avoiding commitments at all costs. Can he and Celeste just stick to a holiday romance that will end with Christmas?
The author does a fabulous job of showing how much Rachel has been beaten down over time and how hard it is to overcome that. Her friendship with Celeste is a definite case of opposites attract. I don't know if I could deal with Celeste's forceful personality, but Rachel is a truly sweet person.
Damon seems like the typical commitment phobic guy of recent times, at first, but the author lets the reader see more about how his upbringing has shaped him.
Not only is Awakening His Shy Cinderella a Cinderella style story, it also is a great Christmas story. It is a perfect book to cozy up with in December.
Book Info:

Publication: December 15, 2020 | Harlequin Romance | Cinderellas In the Spotlight
Can a festive flirtation last…
After the final cracker has been pulled?
Damon knows Rachel's always prioritized her family's needs above her own. But one close encounter between them changes everything… It's time for Rachel to step out of her comfort zone! Damon usually steers clear of commitment, but neither can resist indulging in a very temporary affair! Only, when the time comes, can he walk away from the captivating woman he's discovered?
From Harlequin Romance: Be swept away by glamorous and heartfelt love stories.
Cinderellas in the Spotlight