Away in Montana by Jane Porter is set in 1889. After socialite McKenna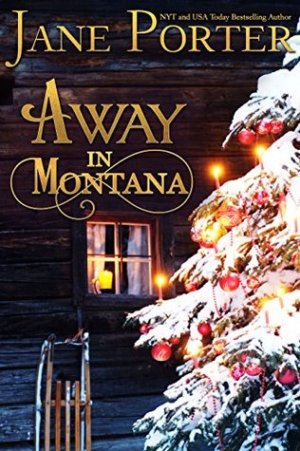 Frasier is disgraced and disowned by her family, she accepts a job as a school teacher in the small Montana town of Paradise Valley. People in town have heard of her fall from grace, as her father owns the copper mine that keeps a lot of the town in business. The last person she expects to run into is Sinclair Douglas, her first love who she left behind to travel.
Sinclair hadn't expected to see the woman who broke his heart again. When he did, he was both angry for the way she left him but also sad for what she was going through. Despite the pleas of his sister and mother, he's determined to help her the best he can without causing her another scandal.
McKenna was an outspoken woman for that time. While most women were content with being married and having children, she was determined to have a career. She strongly believed that women were capable of taking care of themselves. I admired the fact that no matter how much people in town made her feel like an outcast, she kept her head held high, refusing to show them that it bothered her.
Sinclair's initial hostility towards McKenna was understandable, considering how she had initially left their relationship. What bothered me about him, however, was the fact that he considers marrying another woman despite the fact he doesn't love her and still has feelings for McKenna. It wasn't right and made me a tad bit angry at him.
I would have liked to have seen more a reconciliation between McKenna and her father. What did happen was all right, but I would have liked to have seen more. A reconciliation with her sister was practically non-existent. Considering what was rumored to have happened wasn't completely as it seemed, it would have been nice for them to give her a chance to explain what really happened. I didn't care for the fact that he seemed to place more importance on his younger daughter than he did McKenna.
I'm generally not a fan of stories set in older time periods, but I was pleasantly surprised with this book. This is a well-written story about learning to stand on your own, forgiveness, and second chances. I'm looking forward to reading more about the characters of Paradise Valley.

Book Info:

Publication: December 6, 2016 | Tule Publishing | The Douglas Ranch of Paradise Valley Book 1
Beautiful, spirited heiress McKenna Frasier–daughter to one of the Butte Copper Kings—vowed eternal love to Sinclair Douglas before she left for college and an introduction to society. Four years in New York and travel abroad have opened her eyes, making her realize she wanted more than marriage and a simple Montana life. But when McKenna commits an unforgivable transgression and destroys her reputation, her dreams are shattered and she is forced to return to Montana disgraced, disowned and unmarriageable.
Sinclair Douglas left Butte to escape the Frasier power and Frasier name, but suddenly all anyone talks about in Marietta is scandalous McKenna Douglas, Paradise Valley's new teacher. Sin doesn't want to know about McKenna anymore. He doesn't want to have to help her, and he sure as hell doesn't want to love her. But McKenna has lived so long in his heart that it's her home–even if she doesn't deserve to be there.
But if there is one man who knows how to rebuild a life when all dreams have been smashed, it's fierce, uncompromising Sinclair Douglas. Can Sinclair and McKenna heal enough to find their own Christmas miracle, and one more chance at love?