Back in the Enemy's Bed by Michelle Celmer is a sexy second chance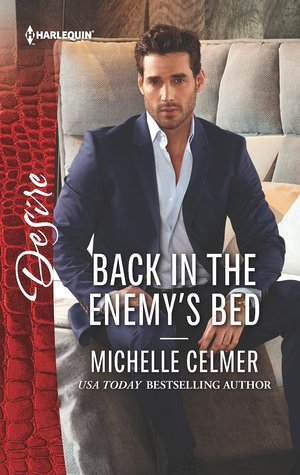 romance, part of the Dynasties: The Newports series that features the Winchesters and the Newports, and their fractious relationship upon the discovery that Sutton Winchester, a crotchety but wealthy older man now sick with cancer had fathered an illegitimate child, Carson Newport. Carson's claim to the inheritance that the Winchester girls Eve, Nora and Grace expected to be theirs has caused all sorts of family fallout – complicated by Eve having hooked up with Carson's brother Graham Newport and expecting a baby.Now it's Grace's turn in the spotlight though, when her ex boyfriend private investigator Roman Slater is back in the picture. He betrayed their family, and her, back when he was convinced that doing the right thing meant bringing his suspicions of the Winchester family's involvement in organized crime to the attention of the authorities – a suspicion that turned out to be unfounded but ruined the relationship and trust between Roman and Grace. But Roman wants to prove to Grace that he's sorry for the mistakes he made and is worthy of a second chance. The attraction between them is as strong as ever – but will Grace be willing to take a risk with her heart again?
I'm really enjoying this series by different authors, all centered on the same family drama, and this one is right on par with the rest of the ones I've read. With each story there has been a little more of the overall story arc revealed, some mysteries coming to light, but each is easily read as a standalone with a complete couple romance. Even if you've missed some it's easy to catch up as the continuity of the series flows well.
Grace has pretty strong reasons for not trusting Roman after the debacle he made of their relationship the first time and her hurt feelings over his betrayal. She can't understand why her father would want him to have anything to do with their family, let alone be involved with gathering information about the background of the Newport brothers. Grace and her father have an interesting relationship, though it's clear he's always been the one in charge and now that he is in poor health she gives in easily to his requests (including sitting in on his meetings with Roman when he knows what happened in their past). In fact, it angers Roman that she lets herself be pushed around by her father, even though it's to his benefit as he won't get to convince her that he's sorry about what happened before if he never gets to see her. Once they are in the same proximity the attraction between them flares up and leads to some sensual love scenes, even as Grace is determined to guard her heart. But there are some more secrets that come into play, ones that could cause another rift between them when they come out. It's up to Grace to decide whether she believes in the relationship she and Roman have now.
In the end we get a lovely happy ending for this couple, with a story of love and forgiveness, and some hints of what is still to come in the series. I'm looking forward to reading more from this author, and to see what is next for the Newports and Winchesters!
Book Info:

Publication: Nov 1, 2016 | Harlequin Desire | Dynasties: The Newports #5
From lovers to sworn enemies…and back again? A dramatic Dynasties tale from USA TODAY bestselling author Michelle Celmer!
Wealthy private investigator Roman Slater has never forgiven himself for hurting former flame Grace Winchester. And Grace has never forgiven him, either! When she discovers that he now has her family in his sights, she puts up a fight.
But where Roman is concerned, she can't help it: she's a lover not a fighter. Despite herself, she's back in the millionaire's bed just like that. But is Grace setting herself up for a replay of past betrayals? Or will Roman prove that he's one of the good guys this time around?