Back to You (Remington Medical #1) by Kimberly Kincaid: I love the start of a new series! I especially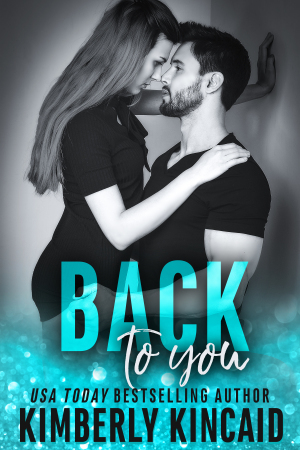 love the start of a new series if it starts with characters that we have meet in a previous series. You do not have to read the previous series to start this one. The first book in the Remington Medical series, Back To You by Kimberly Kincade is the story of Parker Drake and Charleston (Charlie) Becker.
Six years ago Charlie's life fell apart. So she did the only thing that she could do, she left North Carolina and has been working nonstop ever since. But when her best friend Tess needs to take some time off for the birth of her baby, Charlie steps in to fill in the ER. She soon realizes that being back won't just bring back old memories, she'll also have to face her ex-husband.
Parker knows he'll have to work hard and follow all the rules in order to successfully finish his second chance as an intern. But working with Charlie, the one woman he never got over, could never forget, will test all his resolve. As Charlie and Parker face the emergency department's intense unrest, old feelings resurface and the two cannot deny the still existing attraction between them. Being open and honest helps them understand and forgive each other, but that's not enough to overcome the obstacles they're faced with this second time around.
Nobody does bad boys romance quite like Kimberly Kincaid. Parker Drake is the best kind of rebel: a man intent on saving lives no matter the risk or the rules he needs to break to save them and Charlie is his perfect counterbalance. Charlie is a touch character that takes no prisoners. She speaks her mind and she can give Parker a run for his money. The sparks that these two have are electric and it makes for an amazing read. I cannot wait for the next book in the series.

Book Info:

Publication: February 12th 2019 | Kimberly Kincaid Romance, LLC | Remington Medical #1
His second chance is his only chance
Parker Drake wants exactly one thing—to fulfill his dream of becoming a doctor. Between his reputation as a rule-breaker and the six years that have passed since his first internship ended in disaster, he knows he's only getting one shot at a second chance. He'll do anything to put the past behind him and reach his goal…including work with the gorgeous ex-wife he's never gotten over losing.
All work and no play make surgeon Charleston Becker a very happy woman. But when she's tasked with mentoring her ex-husband through his second chance as an intern, her signature calm is put to the test. She's not interested in re-hashing the heartbreaking circumstances that ended their marriage, and the six years that have passed haven't made Parker less reckless. The last thing she's willing to do is trust him—even if she does find him sexier than ever.
But familiarity breeds forgiveness, which then becomes a passion that threatens the careers Parker and Charlie have worked for. Can they turn their second chance into a happy ending? Or is history bound to repeat itself?
This steamy contemporary medical romance can be read as a standalone.