Bad Boss by Jackie Ashenden is another steamy romance featuring a controlled alpha male and the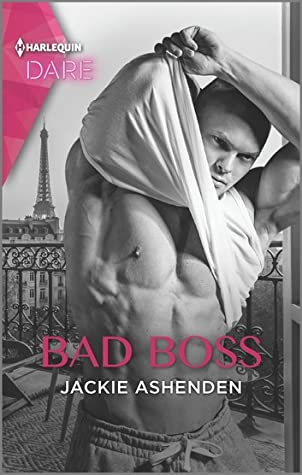 woman who tests his limits. It's the third and last story in the Billion $ Bastards series.
Ulysses White likes things a certain way, and having his personal assistant Morgan Blackwood always available is one of those things. Running Black and White Enterprises is a more than full time job and he relies on Morgan to keep track of anything involving people – he's more attuned to numbers than making social niceties. When Morgan comes to him looking for a vacation he wants to know why. And when she tells him that she needs a break from work to go meet someone, go on a date, maybe have some good sex, he immediately offers to fulfill the latter.
Morgan knows he's not kidding. Ulysses never says anything he doesn't mean and he takes everything literally. He's a handsome man whom she knows from his reputation is good in bed, and she'd have to be blind not to be attracted to him. And she's always had fantasies of rough sex, the kind that Ulysses happens to like himself. A few kisses shows that they're definitely sexually compatible and a heated affair ensues. But can it turn into something long lasting?
As always Jackie Ashenden turns up the heat dial and this latest entry in her scorchingly hot Billion $ Bastards series is no exception! With Morgan's desires for a a bit of force play and Ulysses being quite happy to be in control, there is no lack of sexual heat between them and several sexy scenes play out. I really liked that Ulysses is intent on getting consent from Morgan for everything they do together.
What makes Ulysses an interesting character is that he is brilliant with numbers but not with emotions. He says what he means, and he doesn't understand sarcasm or jokes. He doesn't believe he is capable of love or being loved based on his upbringing as a foster child and he doesn't trust anyone except his two best friends Damian and Everett. But this changes as he and Morgan spend time together. Learning to trust Morgan, and that what he is experiencing is love, are the steps he needs to take for them to get their happy ending. As for Morgan, she is patient and understanding, key things for their relationship to move forward. It's a fitting ending to this trilogy. I look forward to reading whatever the author has in store next!
Book Info:

Publication: Jun 01, 2020 | Harlequin Dare | Billion $ Bastards #3
In this scorching final installment of the Billion $ Bastards trilogy, infuriating billionaire Ulysses White fulfills Morgan Blackwood's darkest fantasies in bed!
I need Morgan. She's the heart of my business—so when she asks for a vacation, I refuse. But Morgan won't let it go. She wants a life, a date, to get laid. Happily, I can provide two of those things…
Maybe I'm not able to read people's emotions, but I can satisfy a woman's every physical craving. And I'm ready to fulfill Morgan's fantasies, no matter how wicked she thinks they are. When she tells me she wants me—and not in a gentle way—I propose a game: I'll help her explore her darkest desires, as long as she remains in control.