In Bad Boy by Elliot Wake, Renard Grant's identity has always been a point of contention in his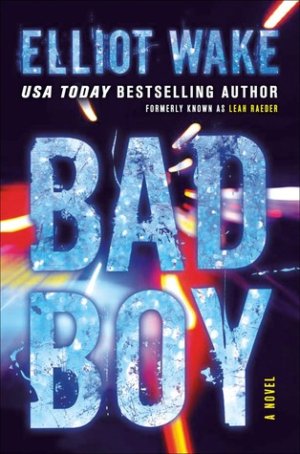 life. Born female, he's thought of himself as male since almost day one, even before reaching those confusing pubescent years. With the shaky assistance of his best friend Ingrid and at the risk of losing contact with his family, Ren has been undergoing hormone therapy for five years now, taking Testosterone, having a full mastectomy, and completing his transition as male. He should be on top of the world, with the ability to finally be the person physically he knows he has always been. But events in his past still continue to haunt him.
'Truth was like a kaleidoscope. With every twist, it looked totally different. All the bits rearranged themselves, some coming clear, others growing obscure. But in the end it was the same pieces every time. All that changed was how you saw them.'
Ren deals with the pain of his past through his job with Black Iris, a group who offers up vengeance against abusive men. Known there as Cane, he's the enforcer who uses his fists and verbal threats to get his point across. All of the members of the group have had their own issues to overcome as well, so they understand perfectly where each other is coming from. But it's new member Tamsin who shakes Ren to his core with her attitude, good looks, and penchant for danger. He's soon torn between trusting his friends at Black Iris, including Tamsin, and former best friend Ingrid when new facts about someone from his past come to light. And the truths Ren uncovers may just change not only his life, but also the friendships he's trusted along the way.
She leaned closer and whispered fiercely, "You can't trust her."
"She said the same about you."
"Believe your instincts. Something feels right, and something feels wrong. Trust those feelings."
Bad Boy was a suspenseful, mind-bending and gender-bending book that opened up my eyes to some of the issues facing the GLBT community today, specifically with transgender transition. Written in an emotionally raw, matter-of-fact manner, but with beautiful background imagery, I can see why author Elliot Wake has such a devoted following.
'Testosterone was a medical necessity because it was all that made living inside this body bearable.
She didn't get that. Nobody did.
If only they knew what it felt like, being held hostage by your own skin.'
Okay, so right away I will warn you that this will *not* be a good match for every reader. It will be controversial and likely will have too graphic a description of what our transgender character Ren goes through physically, mentally and emotionally. Plus the story has some dark moments while describing the suicide attempts, depression, sexual and physical abuse the characters involved have been through. So obviously these issues being triggers for some readers may make this a tough story to get through. For this reason I've waffled between a 3.5 and 4 star rating, finally going with a 3.5 rating.
Now not all of the book is bleak and dismal, though, thankfully. I personally found Ren's journey to be rather fascinating and his determination to be on the outside who he truly was–and had always been–on the inside was inspiring. Just trying to wrap my mind around being born one gender but always identifying as another was interesting enough. Then getting to see what Ren had to deal with socially and even how his family dealt with his transition was a whole other complicated issue.
The lines started to really blur for me when the relationships between the members of Black Iris were explained, as well as Ren's feelings for longtime friend Ingrid and new romantic interest Tamsin. I haven't read the previous books by Elliot Wake, written at that point as Leah Raeder, so I was at a disadvantage as to the history of these characters. But I could see why Ren was so confused as to who to believe and who to trust. I liked that I second guessed myself as much as he did about who was out to get him and thought the suspense portion worked well. Some of the choices Ren and his friends made seemed pretty cold-hearted to me at times, but then again the purpose behind Black Iris (vengeance against abusive men) was not a pretty one anyway.
I think readers will have to make up their own minds whether this is the right story for them or not. I was glad to finally have a chance to check out Elliot Wake's work and get a brave in-depth view into transgender issues from an author who knows the lifestyle firsthand.
Book Info:

Publication: Published December 6th 2016 | by Atria Books |
Vlog star Renard Grant has nothing to prove: he's got a pretty face, chiseled body, and two million adoring video subscribers. Plus the scars on his chest and a prescription for testosterone. Because Ren is transgender: assigned female at birth, living now as male. He films his transition and shares it bravely with the world; his fans love his honesty and positivity.
But Ren has been living a double life.
Off-camera, he's Cane, the muscle-bound enforcer for social justice vigilante group Black Iris. As Cane, he lets his dark side loose. Hurts those who prey on the disempowered. Indulges in the ugly side of masculinity. And his new partner, Tamsin Baylor, is a girl as rough and relentless as him. Together, they terrorize the trolls into silence.
But when a routine Black Iris job goes south, Ren is put in the crosshairs. Someone is out to ruin his life. He's a bad boy, they say, guilty of what he punishes others for.
Just like every other guy: at heart, he's a monster, too.
Now Ren's got everything to prove. He has to clear his name, and show the world he's a good man. But that requires facing demons he's locked away for years. And it might mean discovering he's not such a good guy after all.