Bahamas Escape with the Best Man by Cara Colter: Marlee is going to the destination wedding of her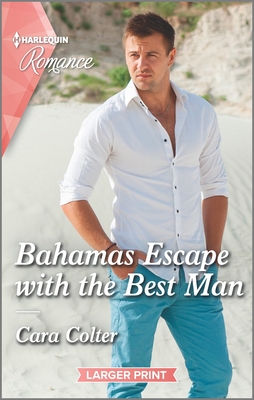 bestie, Fiona. Just getting to the tropical island of Coconut Cay is quite an expense. Fiona has provided a private bungalow for her which is nice. What isn't nice is the ugly dress that she has to wear. That seems to be par for the course for most bridesmaids so they don't outshine the bride. Still hers is the most frumpy looking one of the bunch. Perhaps she is perceived as a little less than glamorous because her job is being a librarian for a big public library system.Marlee decides to walk around the complex the first night after having a couple swigs of straight rum and carrying a cigar that has been placed in her room. She runs into a handsome man whom she supposes is one of the staff.
Marlee is so embarrassed the next morning when she finds out the man she met the night before isn't a staff person, but the best man for the wedding. Not only is he very attractive, but he has the very exotic name of Matteo. It seems they are destined to send time together during all the wedding events.
Matteo is a wealthy businessman who travels for business. His home base is Switzerland. He is very confident and charming and tries to help Marlee get out of her shell. Marlee is still a little hesitant after being jilted by her former fiancé.
Marlee had hoped to have some time to relax. Fiona has suddenly turned in to an OCD Bridezilla, This is putting everyone on edge including her husband to be. Can Marlee and Matteo help to bring Fiona "off the ledge" and make the whole wedding event a little more serene?
I love the name Matteo. I have seen it in several romances in recent times. It just exudes romance and exotic locales. Matteo is a kind man, but his past has kept him from finding someone to truly love. Although he is rich, he accepts people for who they are.
Marlee grows over the course of this novel. She has lost confidence after spending so much time and energy to plan her own wedding and then having it all fall apart. Can she become the woman she was meant to be?
The location of the tropical island lends a special tone to the story. I also enjoyed that humor was mixed into the plot. We all need to laugh and escape from everyday life on a regular basis.
Cara Colter has provide another awesome tale to her ever growing list. As long as she keeps writing them, I'll keep reading them.
Book Info:

Publication: June 28, 2022 | Harlequin Romance |
Escape to the Bahamas in this whirlwind romance by Cara Colter for Harlequin Romance.Could losing their inhibitions……lead to losing their hearts? Marlee Copeland is the bridesmaid who hates weddings after being left at the altar. Billionaire Matteo Keller is the best man who avoids love after a devastating loss. Brought together in the Bahamas for the wedding, they find themselves letting go and giving in to their unexpected, thrilling chemistry. But when the "I dos" have been said and their different worlds beckon, will the magic of the island make going their separate ways impossible?