Bare It All by Lori Foster is book number two in the Love Undercover series by Lori Foster. With bigger than life characters, a well written plot and a sigh worthy conclusion, Bare It All makes for a good solid romance.
Bare It All starts off where book number one leaves off at. If you haven't read the first book in the series you may not understand what is going on in the beginning of the story. It is my recommendation that you read Run The Risk before trying to take on Bare It All.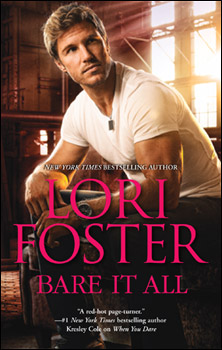 Alice Appleton is hiding from her past where she was a victim of a human trafficker. She has been living a life of seclusion until a crime occurs in her neighborhood. With Alice's help a perpetrator is taken down. When her neighbor, Detective Reece Bareden, finds himself in need of a place to stay while his own home is the scene of a crime, Alice invites him to stay on her living room couch.
Although Reece and Alice are virtually strangers, they find that they are attracted to one another. It isn't long before the two begin a sexual relationship, with deep feelings for one another developing slowly. When it appears that Alice is hiding things from Reece, he does his best to get her to open up to him. One thing is for sure, Reece will do anything to keep Alice from harm.
When Alice takes on a criminal in the midst of a crime, she puts herself in danger. Now she has some very rough individuals after her. Will Reece be able to successfully keep Alice out of danger?
Not only is Reece good looking, he is also very caring and thoughtful. He is always there for Alice and even though there are plenty of women who are interested in Reece, he only cares about Alice.
Alice has deep scars from her encounter with a kidnapper. With Reece's help she is able to overcome her fears. She is a kick butt and take names kind of character that you can't help but to admire. More than once she takes on the bad guys and comes away victorious.
Bare It All is a non-stop thrill ride that will keep you on the edge of your seat. If you like a lot of steamy love scenes in your romance novels, then you are going to love Bare It All. Lori Foster delivers a fast paced, heart pounding read that you won't want to miss!
Book Info
Release date: April 30, 2013 | Series: HQN
A cop's craving to know more about the woman next door could prove fatal in the steamy new novel from New York Times best selling author Lori FosterAs the person responsible for taking down a brutal human trafficker, Alice Appleton fears retaliation at every turn. No one knows about her past, which is exactly how she prefers it…until the sexy cop next door comes knocking.Detective Reese Bareden thinks he knows what makes women tick, but his ever-elusive neighbor keeps him guessing like no other. Is his goal to unmask Alice's secrets? Or protect her from a dangerous new threat? One thing is certain: their chemistry is a time bomb waiting to explode. And with no one to trust but each other, Reese and Alice are soon drawn into a deadly maze of corruption, intrigue and desire—and into the line of fire….