In Barefoot Bay: Perfect Mismatch by EmKay Connor , Elizabeth is tired of the dating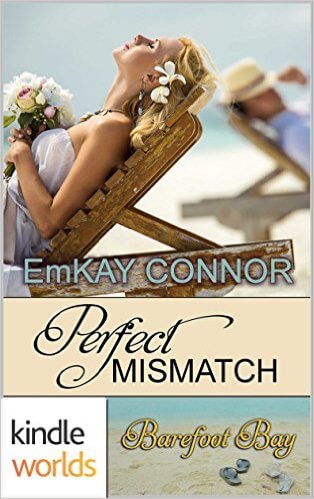 game and feels like she'll never find her Mr. Right who will like her for her and not her bank account or status. Val feels the same way. Both of them end up in Barefoot Bay, for a reality show promising them their perfect match. But are they the perfect match or is it all a mistake?
Perfect Mismatch is a very fast, fun read. Some things go as planned, some don't…which will their match to each other be? The heat and attraction between Val and Elizabeth is palpable. So is their wariness and uncertainty though. Can love happen this fast? Val and Elizabeth's whirlwind time in Barefoot Bay was easy to feel a part of, and EmKay's descriptions were vivid of the people and the place. As fast as Val and Elizabeth fell, the length of the novella worked well for their Perfect Mismatch. I liked what I got to know of Val and Elizabeth, and I could see why they decided to try for love this way.
It was great to see some characters from previous Barefoot Bay books make appearances in Perfect Mismatch, but Perfect Mismatch can be read as a stand alone novella in a great setting. I'd recommend Perfect Mismatch to any romance reader looking for a quick paced, steamy novella!
Book Info:

Published: April 12th 2016 by Kindle Worlds: Barefoot Bay
How does a wealthy, overworked CFO at a Fortune 500 company find a man when every guy she's dated is more interested in positions and power than in her? Cue the violins for an Italian pizzeria owner from Philly with a track record of dating disasters and a real desire for love. Both apply to PERFECT MATCH, a TV reality show advertising cutting edge technology to pair up ideal mates. Matches so perfect, the show guarantees a wedding before the weekend is over.
But when Elizabeth Ellis and Val Corelli arrive at Barefoot Bay to star in the show's premiere episode, they discover the producers' idea of a perfect match is a lot different from their own.