In Barefoot With a Bad Boy (Barefoot Bay Undercover #3) by Roxanne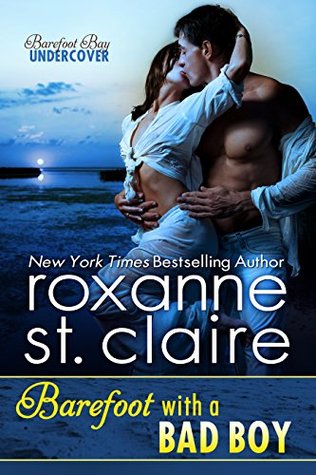 St. Claire, Gabriel Rossi came to Barefoot Bay, Florida to uncover the truth about the disappearance of the love of his life, Isadora Winter. But the more he dug, the more bleak his findings. Believing she is dead, Gabe is shocked when Lila Wickham claims to be Isa. She looks and sounds nothing like her. Although being a former spy himself, he knows looks can be very deceiving. He wants to trust what Lila is saying, but Gabe's past has left him overly cautious and not trusting anything he can't prove to be 100% real.
"I don't care what your name is," Gabe whispered, dragging his lips over her eyes and cheeks and, finally, her mouth. "We're perfect together."
Lila thought she was finally free to begin living the life she wants after years of being undercover for the CIA. But now she finds out that she and her young son are being threatened. Fleeing to Barefoot Bay to hopefully get the assistance of Gabe Rossi, she gears up to battle the bad guys. But while there, Lila continues to suffer from painful migraines with every attempt at a normal life with genuine emotions. Gabe swears he'll help keep her safe, but at what cost to their hearts and their lives as things spin out of control.
"I wasn't in love with Isadora's hair or body. I was in love with her heart and soul and spirit."
She blinked, hating that tears burned behind her lids. "What if my heart and soul and spirit are all gone, too?"
Gabe. Rossi. Need I say more? Fans of the Barefoot Bay Undercover series and/or The Guardian Angelinos series have been waiting for this book for a long time. And in my humble opinion, it was SO worth the wait!
The previous two books in this series have been leading up to this moment where we finally get the lowdown on Gabe's background in the CIA and what really went on between himself and Isadora. I think readers could probably treat this as a standalone but it would make more sense if you had at least read Barefoot With a Stranger (book two) so you can understand how Gabe and Lila got to this point. It will also explain Gabe's mind frame when Lila claims to be Isadora at the beginning of this story.
I love a well-written romantic suspense with lots of action, some romance, and relatable characters. Roxanne St. Claire has done just that and so much more. She created a complex, emotion-fueled novel that had several plot twists that I honestly didn't see coming. And on top of that, this was not only a second chance romance (my favorite trope!) but it centered around family and what it means to be included in that inner circle of love and loyalty. Sounds wonderful, right?
Potty-mouthed, hunky bad boy Gabe was so much fun. And he was kind of a walking contradiction in some ways. He was untrusting of just about everyone except his family. However he would give his life to save someone in need. He swore off love and romance, but he fell head over heels for Lila. Yet all of those characteristics made Gabe a guy you would want in your corner, fighting for you and protecting you. And Lila admired that, even above how sexy he was. (And he was mighty sexy, let me tell you…) *swoon*
Lila was a very complicated character, but I liked her a lot. She'd been through so much and was constantly fighting her doubts about what she had given up in order to save innocent lives. Plus her own body was fighting her every step of the way with debilitating headaches. It was really interesting watching the progression of Lila and Gabe's relationship, with their trust issues and heartbreaking pasts. Although I loved it when it was just the two of them together, the scenes I loved most included her son. He was such a cute little rascal and added some comic relief to the mix.
Barefoot With a Bad Boy was utter perfection. It was an incredible way to end this part of the series on a happy note, full of love and family. I think readers will love every single moment they spend with Gabe, Lila, Uncle Nino and the rest of the gang.
Book Info:

Publication: Published February 15th 2016 | South Street Publishing | Barefoot Bay Undercover #3
A man who trusts no one is forced to believe the unbelievable…
Former spy Gabriel Rossi has been searching for CIA linguist Isadora Winter, a woman he loved and lost. After learning of her untimely death in an accident, and the loss of a son who must be his, Gabe is stunned when a woman he's never met approaches him on the beach and claims to be Isadora. She doesn't look, act, or talk like his beloved Isa, but she knows things about their past that only a lover could know, and she assures him that his son is alive and well. As much as Gabe knows that in the spy world, anything is possible, doubts and distrust plague him. Still, he sees glimmers of the woman he once knew shine through and she begins to melt his hardened heart.
A woman who is tortured by emotions must endure the pain of love…
Lila Wickham has been working deep undercover for so long that sometimes she's forgotten who she really is. Finally free but utterly changed, she is determined to fix the broken life she left behind and assure that her little boy is safe. With lingering threats from an unknown source and blinding headaches that torment her whenever she feels deep emotion, she seeks Gabe Rossi for help and protection. But instead of setting her up with a new undercover identity, he insists on luring her nemesis to Barefoot Bay so he can end the threat to Lila and her son once and for all.
Can they survive the worst betrayal of all?
Even if they succeed in drawing out the killer who has Lila in his sights, a much more serious threat hovers over them…a treacherous, deadly truth that could not only destroy their love but end their lives as well.
Don't miss a moment in Barefoot Bay – one gorgeous island, one compelling series, many different trilogies and tones! Light and sexy, deep and emotional, dark and dangerous. No matter what you want in your love story, you can find it in Barefoot Bay!
Barefoot Bay Billionaires
Secrets on the Sand
Seduction on the Sand
Scandal on the Sand
Barefoot Bay Brides
Barefoot in White
Barefoot in Lace
Barefoot in Pearls
Barefoot Bay Undercover
Barefoot Bound (prequel)
Barefoot With a Bodyguard
Barefoot With a Stranger
Barefoot With a Bad Boy