In Barefoot With a Stranger (Barefoot Bay Undercover #2) by Roxanne St. Claire,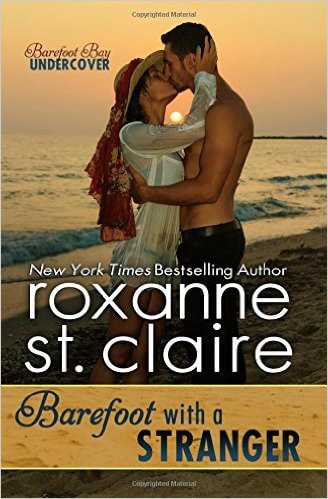 When Francesca Rossi's big brother Gabe asked for her help, she had no idea she would be going undercover to Cuba, because as a tech whiz she's usually behind the scenes. Chessie goes off plan when she hooks up with a fellow traveler after their flight is canceled, only to find out Malcolm Harris is going to be her partner. Things get complicated quickly when her feelings get mixed up with the adrenaline of her first ever hook up and her first time in the field. But no matter what, she can't let Gabe down.
"We have a deal?"
She took his hand. "Sex with no strings, no commitments, no messy explanations, no feelings, no emotions, and no…hope."
He nodded and shook again. "Hopeless sex. Got it. Deal."
Mal Harris is pretty sure that Francesca must be CIA because no way would such a lovely woman be after him. Especially with the last four years he spent in prison hanging over his head. Even though he didn't commit the crime, Mal knows operatives are still watching his every move. But after realizing that Chessie isn't a spy, he shortly finds out he's in even more trouble. They have to complete a mission for his best friend Gabe. Chessie's brother. No matter what he does, Mal can't get her out of his head or his heart. And that scares him worse than going back to Cuba where his life went all to hell the last time.
'Define hope, his brain screamed. Hope was Francesca Rossi at his side. Hope was happiness, and they were all intertwined. He just had to keep himself–and her–alive long enough to share that.'
I have come to treasure my time in Barefoot Bay with the wonderful characters Roxanne St. Claire has created. And Barefoot With a Stranger was almost like a twofer, in that we had time in not only Barefoot Bay, but also an exciting (and sexy!) trek across Cuba with Chessie and Mal.
'Don't fall for him, Chessie. You'd never have a normal life.' Gabe's warning howled in her head, louder than the wind. Who wanted a normal life when you could have a life of adventure and fun with Malcolm Harris?'
I really am loving the Barefoot Bay Undercover series with its edge of suspense. This second book takes it up a notch with the secrets, deception, and action happening fast and furiously both in the U.S. and in Cuba. Personally, I would recommend reading this trilogy in order so you get the underlying thread of Gabe Rossi's situation where part of this was written from his POV, as was the previous novel and novella. He is the key to the story arc and it sounds like he will finally, finally get his chance at a HEA up next in book three, Barefoot With a Bad Boy. Yay!!
So Chessie and Mal were just plain old fun together. Sparks flew. Good intentions were thrown out the window. They fought their feelings as they were just too different from each other. Or so they thought. I think that was what I loved most, actually. Mal and Chessie were both solid, good people but had drastically different backgrounds. And eventually they grew to realize that they held the same beliefs and let go of what other people said about them not being right for each other. They trusted their instincts instead. Gotta love that.
Like I said before, the suspenseful plot was great and kept things moving right along. There were still a lot of nice emotional moments between several of the characters, including Gabe, Chessie, Mal, Nino, Poppy and others we met in Cuba. But it was a combination of the intricate plot and the chemistry between our protagonists both increasing throughout the story that held my attention. If book three keeps that momentum going…look out!
Roxanne St. Claire can do no wrong with her romantic pairings. I adored compassionate computer whiz Chessie and was equally swept away by fiercely loyal ex-Marine & ex-CIA spy Mal. I absolutely cannot wait to see what awaits us with Gabe's story!
Book Info:

Publication: Published October 14th 2015 | by South Street Publishing | Barefoot Bay Undercover #2
Francesca Rossi might be the youngest in a long line of badass siblings, but this computer whiz would rather hack a database than pack a pistol for the family business in Barefoot Bay. When an assignment forces her out of her comfort zone and into the field, Chessie decides to amp up the excitement quotient and has her first one night stand with a smokin' hot stranger she'll never see again.
Former CIA agent Malcolm Harris is fresh out of prison for a crime he didn't commit, and knows the government is watching his every move, waiting for him to slip up. But the only mistake he makes is to assume the sexy, sassy woman he seduces on the way to Barefoot Bay is a spy. He learns too late that the beauty he's bedded is really his best friend's sister…and his undercover partner on a risky mission.
Chessie and Mal have to stay one step ahead of the CIA, navigate their way through a perilous country, and fight the insane chemistry that sizzles between them. It doesn't take long for this hacker and spy to discover the power of their unplanned partnership…and learn that falling in love might be the riskiest business of all.
Don't Miss A Minute in Barefoot Bay – all books are set on a fictional island in the Gulf Coast of Florida. Each story stands entirely on its own…but why stop at one? Here's the entire series – read one, a mini-series, or all of them!