Bargaining with the Billionaire by JM Stewart is the third book in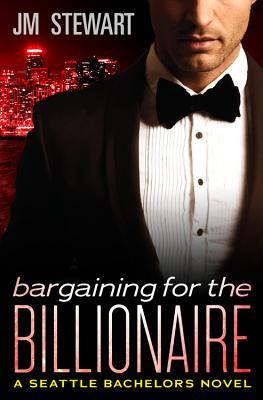 the Seattle Bachelors Series and gives Madison O'Riley and Grayson Lockwood a second chance at love.
Grayson and Maddie developed a friendship which blossomed into so much more. An article published in a newspaper tears their relationship apart, leaving Maddie and Grayson lonely and desperately missing each other years later. The thing is, Maddie never let Grayson explain his side of the story. She just stopped taking his calls and ignored him every chance she got. But here she is, three years later and still not over him and filled with regrets about not letting him explain. To say Maddie is lonely is putting it lightly, so when her friends set her up a blind date, she goes for it. Not everything is how it appears though.
Maddie has trust issues. There are reasons why and once you read the story, you will understand her a little better. When Grayson lied about who he really was, the first time around, it devastated Maddie. Being lied to isn't fun and when that person already has trust issues, it's hard to bounce back from. It's a good thing, Grayson brings his "A" game and doesn't plan to let Maddie run again.
Grayson just wants a chance to explain his side of things to Maddie. He had his reasons for keeping his true identity a secret and he knows if he could just reason with her, they could put this behind them and restart their relationship. She's the only woman for him and he's out to prove how good they can be.
"There are ways to pleasure someone, to be intimate with someone, without sex, and I aim to show you every single one."
Grayson and Maddie heat up the room when they are together. They lose themselves in each other, to the point where nothing else matters. You can't fight that kind of attraction. Combine that with the witty dialogue and flirty banter, and it makes them a wonderful couple to root for.
Is there ever a good enough explanation to lie to someone you care about? Despite what underhanded ways Grayson had to use to get Maddie to see him again, his intentions were honorable and heartfelt. He really cares for her and vice versa. Their reactions and emotions throughout the story are realistic and relatable. While this story is steamy, it's also filled with vulnerable moments and angst, that make this book hard to put down.
This book can be read as a standalone, but the previous books are just as good as this one was. For those who enjoy a great second chance love story, this needs to be your next read!
Book Info:

Publication: September 13th 2016 | Forever Yours | Seattle Bachelors #3
You know what they say: billionaires do it better . . .
Grayson Lockwood is every girl's fantasy. Fabulously weathy? Check. Dangerous good looks, complete with a titillating tattoo on his rock-hard chest? Check. High-powered CEO? Check. Too bad none of that impressed the only woman he ever loved. Since she walked away from him three years ago, Grayson can't get her out of his mind. To win her back, he'll have to finally open up about the secrets he's been keeping. But first, he may have to use a little deception.
Tired of her comatose love life, Madison O'Reilly spices things up by chatting online with a sexy stranger. All she's really looking for is a hot fling-and BookNerd seems flirtatious and surprisingly attuned to her needs. As their chats become steamier, she begins to wonder just how long she can hold out before she has the real thing. But when he steps out from behind his avatar, Grayson can only hope that Maddie will finally see his true heart . . .