Baring It All by Rebecca Hunter: You've seen it before, the playboy and the "ugly duckling" and it never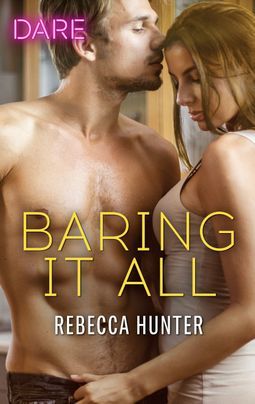 turns out just right. Well except in the movies and in the romance novels, so maybe just maybe there was a chance.
Natasha Petrova kept telling herself that, at least in her fantasies. Her real life though, she knew she was the sister to a model, the daughter of an actress and someone who's passion was fish. She kept telling herself she deserved security not necessarily over the top happiness.
Max Jensen was a playboy and had been since he was a teenager. He was also increbily smart and motivated when you took the time to look deeper. However he had an image and on one level that worked for him. The problem of course was when his image distorted reality just a bit too much.
Max and Natasha had had the "hots" for one another for almost three years, not that they told each other that, now they had one weekend to get it all out. Would one weekend really be enough?
OMG, so worth the wait from Ms. Hunter. The biggest problem, it ends; on a good note and everything but the story and the characters were so captivating it was just hard to see it end. This story has everything from romance to heat to real deal love. While the hero is a complete marshmallow he is also a major alpha dog. This is a blend often tried and often failed however here something makes it (and him) just about perfect. The story is not only worth reading it is worth communicating with Ms. Hunter to ask her when her next story is coming out. The is an author's voice you will want to hear over and over again.
Book Info:

Publication: Published June 1st 2019 | Harlequin Dare |
She's single. On holiday. And about to embark on a wicked sexperiment!
Normally, scientist Natasha Petrova follows the rules of logic. But there's nothing remotely logical about her sister's gorgeous bodyguard, Max Jensen—or the zing of raw lust that hits whenever he's near. So sexy. So tempting. Soooo not a good idea. Only, now Natasha is single again…and Max has made it clear that for their trip to the secluded, tropical beauty of Green Island, he's all hers for the taking.
A sexperiment with the hottest man ever. No strings. It sounds so…simple.
But Max and Natasha's plan isn't without risks. Natasha has a history of falling for the wrong men. And Max's family is practically Aussie royalty, which means that Max's playboy naughtiness always ends up in the tabloids—the last place Natasha wants to be.
This tiny island in the Great Barrier Reef might be the safest place to indulge in the attraction crackling between them. Exposing their bodies to pleasure is one thing. But for Natasha, exposing her heart just might be the most dangerous conclusion of all…