In Darkness Rising by Katie Reus, Reaper, an ancient dragon warrior, has woken up after over a thousand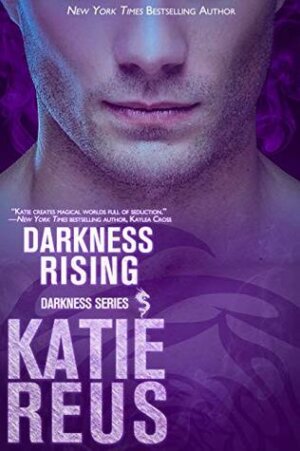 years in hibernation. He senses other warrior dragons are waking up around the world, and he can only assume a battle is coming.
Greer is a healer and has no desire to team up with a warrior, as she saves people and believes warriors are killers. When her Alpha insists that she travels with Reaper to figure out what's going on, she's reluctant but goes. When someone threatens the world as they know it, will they be able to stop them in time?
This is the ninth book in the series. It can be read as a standalone, however, other characters from the previous books also make appearances in this one, so readers may find it helpful to have read the previous books first. I haven't read the previous books and I did feel like I was missing a little backstory when it came to some of the characters and their relationships.
There was plenty of suspense and I enjoyed watching Reaper and Greer try to figure each other out. In Reaper's case, he also had to figure out the modern world. It was entertaining to watch him discover how to use things such as the phone, and using a vehicle to get around instead of flying in dragon form.
The only thing I didn't care for was how often Greer denied that Reaper could be her mate. It was repeated frequently. I understood her concern considering she was a healer and he was a warrior, but at times it felt like she wasn't fully committed to trying to work on building their relationship.
This is the last book in the series but it didn't feel like it. I had questions I didn't feel were answered, however, there is a note from the author at the end of the book stating there will be a new spin-off series. The new series is going to pick up where this book left off so maybe some of those questions will be answered then.
Overall, I enjoyed Darkness Rising. Aside from my issues with Greer, I enjoyed the characters. I thought the action sequences were done well and the romance was a nice, slow-burn; there was nothing rushed about it. I would recommend it to readers who enjoy paranormal romances, especially those featuring dragon shifters.
Book Info:

Publication: June 4, 2019 | KR Press, LLC | Darkness #9
Awakened after millennia, dragon warrior Reaper is ready to fulfill his destiny…until he sees Greer. With one glimpse, everything Reaper has ever known throughout his very long life is irrevocably changed. Greer's his mate, he feels it in his blood, in his soul—but convincing her is another matter. The dragon clan healer finds him obnoxious and annoying, but he knows a woman's interest when he smells it. And Greer smells like one word: mine.
Greer has spent hundreds of years using her healing abilities for the good of others, making her the polar opposite of Reaper. The ferocious war general may be an ancient, but his arrogance proves he hasn't spent any of that time learning about women. Greer is displeased when her Alpha sends her to New Orleans with the insufferable warrior—then she sees him in action against a menace threatening to tear the city apart. Fierce, protective, magnificent…mate-worthy. Except he's hiding something from her. Something dark and devastating that could destroy their newly forged bond. Maybe opposites do attract, but if they want to live long enough to find out, they'll first have to save the world teetering on the brink of obliteration.