In Beautiful (Beautiful Bastard #5) by Christina Lauren, Pippa needs a holiday. She's had enough of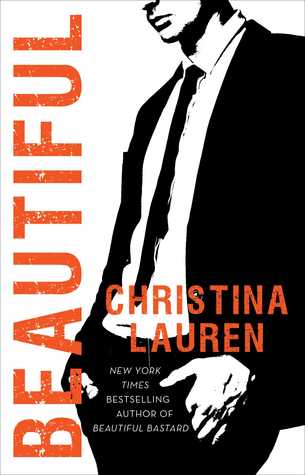 cheating exes, boring, annoying bosses, and a lonely existence of sheer drudgery. So on a whim, the young Brit decides to join her friends Ruby and Niall on a tour of wineries and breweries up the East Coast in America. Along for the trip is couple Will and Hanna, as well as Hanna's handsome brother Jensen. Pippa definitely isn't looking for a new relationship but a vacation fling might just be what she needs. And helping Jensen loosen up sounds like a pretty fun goal. As long as she can keep her heart out of the picture.
"You're beautiful, and only half as irritating as I initially thought."
A laugh burst out of me. "You think I'm pretty?"
"I think you're stunning."
I chewed my lip, watching him.
A slow grin took over his face and he finally asked, "Do you think *I'm* pretty?"
Reaching behind me, I pulled a pillow free and lobbed it at him.
Business attorney Jensen Bergstrom hasn't taken any time off from work in…well, he truly can't remember when he last had a vacation. Somehow his little sister Ziggy talks him into making a trek through New England with the promise of getting drunk on wine and beer daily. Sounds like a hell of a plan. What Jensen didn't factor into things was that he is basically being set up with Ruby's friend Pippa, the outrageous and sexy engineer. After a failed marriage several years ago, he's all but given up on love. Dating occasionally and friends with benefits? Sure. But there's something about Pippa that Jensen can't let go of. Even after their sensual holiday fling should be at an end.
'What reverberated between us wasn't a respectful admiration but something with fire and depth, something that would be hard to shake.'
The gang's all together one last time in this fifth full-length–and final–installment of the Beautiful Bastard series. *sob* And Christina Lauren pulled out all the stops for this one. Humor? Check. Heartfelt emotions? Check. Sizzling chemistry and naughty love scenes? Check and double-check!
'How could a man so restrained by his own rules not see how much passion he craved?'
It's rather hard to say goodbye to this group of characters after having followed their progression since book one, Beautiful Bastard. Each novel has been a journey all on its own, but these characters were all lovingly woven into each other's lives, with us getting glimpses of them again and again along the way. This particular installment was a true reunion. Yes, we got to watch Jensen and Pippa fall in love (yay!) but couples Will & Hanna and Niall & Ruby were a huge part of the storyline too. It was great to see them all interacting, becoming closer friends, and to see the crazy-funny situations they got themselves into.
Christina Lauren are masters at creating couples that work exceedingly well together and Pippa and Jensen were definitely no exception. They were an opposites-attract couple, with Jensen being a buttoned-up workaholic and Pippa being a free-spirited, outgoing woman. I love it when people bring out the best in each other and that's what happened with these two lovebirds. They turned out to be a lot of fun together, with Pippa bringing out Jensen's playful, sexy side as they traveled. (I think the copious amounts of wine and beer probably helped…) And he took her mind off of her life back in London, allowing her to cut loose and relax with friends for a while. It did feel realistic that their vacation fling began to turn serious and that it left Jensen and Pippa both struggling with what to do when their holiday was over.
Where this was the final book in the series, we caught up with ALL of the couples. And what fun that was, with multiple epilogues to enjoy! Basically, Bennett was freaked out over Chloe's new softer attitude. Max and Sara were up to their eyeballs in diapers and dealing with her grumpiness. Will became a domestic god in the kitchen while Hanna plotted their drunken vacation–I mean, tour of wineries and breweries up the East Coast. Niall and Ruby were along for the ride and just as adorably in love as ever. And then there was George. Yep. Even George got his very own well-deserved HEA. Finally.
Beautiful was everything I hoped it would be with many memorable scenes and so, so much love. I still hate saying goodbye to these characters who've become like friends over the past couple of years, but Christina Lauren gave them a worthy sendoff. I can only imagine what they have planned for us devoted fans of their writing in the near future.
Book Info:

Publication: October 4th 2016 | Gallery Books | Beautiful Bastard #5
The tenth work in the New York Times and #1 internationally bestselling series that started with Beautiful Bastard.
A new couple finds love, and the casts of the previous books join in to celebrate this series finale in the most Beautiful way possible.
One free spirited Brit. One man weighed down by responsibility . . .
(Also, a disorientingly sweet Chloe, confused Bennett, grumpy Sara, Max as you know and love him, travel planner Hanna, chef Will, drunk Ruby, content Niall, George–oh, George–a rented van)
. . . and a whole lot of wine.
The final novel in the Internationally Bestselling Beautiful series.