Her Halloween Treat is the first of three Harlequin Blaze books in the Men at Work series by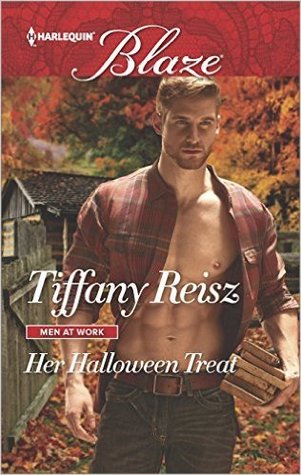 Tiffany Reisz. If the next ones in the series are as good as this one, they'll get top billing on my bookshelf as fun, sexy reads starring down to earth blue-collar heroes.
Joey just discovered that her boyfriend of two years is married. Sure, it seemed strange that while they worked together in Hawaii Ben never wanted her to visit his actual home in L.A. but she never in her wildest dreams imagined the real reason why. With her brother Dillon getting married to his boyfriend Oscar back in Oregon on Halloween (coincidentally also her birthday), it's just the vacation she needs to lick her wounds and figure out what to do next. First stop – a visit to the peace and quiet of the family cabin – that just happens to have been beautifully renovated by her brother Dillon's best friend Chris. Chris is no longer the scrawny, geeky Nirvana loving teenager she knew. Well, he might still love Nirvana but he's grown into a very handsome, hardworking builder/carpenter/good with his hands kind of guy. And when he offers to put those hands on her, Joey's not about to say no. She's had her heart broken once though, and while a sexy fling with Chris might help her heal, she's got no plans to move back to Oregon even if her brother Dillon wants her to consider coming to work for him and his new lake resort business. Can Chris convince her that their newfound relationship is not a trick but a treat that could last a lifetime?
This book is really funny. The words that come out of these characters' mouths made me laugh out loud numerous times. It definitely will be on my list of favourite romantic comedies of 2016. The circumstances of Joey's breakup are dealt with in a fairly lighthearted vein, and clearly her ex Ben is a jerk. Meeting Chris again, and finding herself attracted to him (and definitely vice versa) is the ego boost Joey needs and a reminder that there are still good guys out there. Chris is a sweetheart of a hero – but he's also got some sexy alpha male tendencies and puts those to good use with Joey. The result is several super steamy scenes between them. Chris knows Joey's on the rebound, and that the fling they are having is a short term affair but it doesn't change his reality – that he was in love with Joey back in high school and he's falling in love with her all over again. In a way it's an insta-love story and in a way it's not. These two have a strong history of friendship and affection even if they haven't seen each other in years. It's not surprising that those feelings come to the surface as they interact as adults, and just add to the emotions brought on by their sexual affair.
Besides the romance building between Chris and Joey, and the upcoming wedding between Dillon and Oscar, there are two other relationships that are equally important to the story. Joey's brother Dillon came out as gay in high school. While Joey supported him wholeheartedly during that difficult period in his life, so did Chris. Chris became Dillon's personal bodyguard and at the cost of his own teenage reputation, defended Dillon from the bullies who used Dillon's sexuality as an excuse to attack him. This story treats the reality of being a gay teen and the difficulties encountered as a result with respect, and is the note of seriousness in an otherwise humorous affair. They remained friends through high school and beyond, and Chris's contracting business is key to the success of Dillon's resort plans. The bromance between Chris and Dillon is both funny and poignant. And what I really appreciated was the lack of posturing on Dillon's side with respect to his friend sleeping with his sister. He treats his sister as an adult – she can sleep with whom she chooses. None of this 'keep your hands off my sister or else' attitude.
The other friendship of note is Joey and her best friend Kira. Kira is hilarious. She's exactly the kind of girlfriend you want to have. Her advice to Joey, once she finds out about Ben is to get under a new man as soon as possible. Kate encourages her to follow her heart, but gives some practical advice too. She's the constant in Joey's life and I really enjoyed those scenes (phone and text conversations) of sisterhood.
Joey is at a crossroads in her life. Her brother Dillon wants her to stay in Oregon and help him manage his new business. She and Chris obviously are compatible in the bedroom and out. But her home and her job are in Hawaii, and leaving that will mean letting her ex Ben win. Plus, she knows she's on the rebound and the feelings she's having for Chris are tempered by that knowledge. The second half of the story while just as funny as the first half (and including a wonderful '80s themed wedding for Dillon and Oscar on Halloween), puts Joey's new found feelings to the test as she has to make some decisions about her future. The setting of the story is lovely, a picturesque mountainous area of Oregon that is well described and very enticing. If you are looking for a funny, steamy romance with likable, believable characters, you'll find it with Her Halloween Treat! I look forward to reading more of this series.
Book Info:

Publication: Sep 20, 2016 | Harlequin Blaze | Men at Work #1
Trick…or wicked treat!
It was a devastating dirty trick—Joey Silvia just found out her boyfriend of two years is married. What. A. Dick. Joey knows her best chance to get over one guy is to get under another. Of course, heading home to her family's remote cabin in Oregon poses some challenges in the "available men" department…until she discovers this cabin comes with its own hot handyman!
Holy crap, Chris Steffensen. When did her brother's best friend turn into a hard-bodied pile of blond-bearded hotness? He's the perfect Halloween treat—and a surprisingly dirty rebound guy. For a couple of weeks, anyway. Except that Chris has other ideas…like proving to Joey that this blast from the past is a whole lot more than a naughty Halloween hookup.