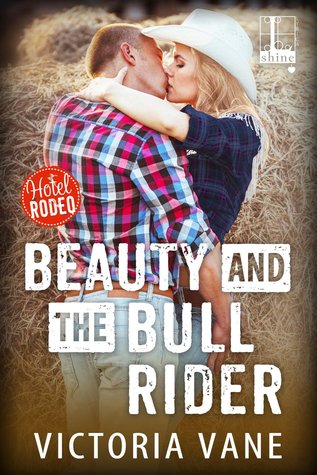 Beauty and the Bull Rider by Victoria Vane is the third book in the Hotel Rodeo Series and for those readers who have read the first two books, this is Delaney's story.
As you know Delaney is Ty's ex-wife; the one who took half his Ranch in the divorce, so I was prepared to hate Delaney after reading the other two books, but that was one emotion that didn't even cross my mind. I felt sorry for Delaney and the way she grew up and the way her marriage ended, even though love wasn't in the equation. Delaney and Ty were never meant to be, but she and Zac make a very good team. The only problem is Delaney doesn't want another husband. One failed marriage is enough for her, but Zac can offer her something she desperately wants…a baby.
"For almost eight years she'd worn her heartache like a badge of honor, but in less than a week this bad, broody bull rider had reduced it to a barely perceptible twinge."
Zac has been attracted to Delaney from the very beginning, but when his best buddy went after her and then married her, she became off limits. Zac has been with many women but Delaney is who he wants to start a home with. Zac is persistent and you can honestly see how much he cares for her. He's got a battle on his hands trying to convince Delaney to give him a chance, but he's up for the challenge.
I loved how Delaney wanted to make something of herself on the ranch. She wanted to be a part of something and she accomplished that. She knows exactly what she's talking about and is very knowledgeable about the breeding program. If it works for her cows, it can work for her…right?
If you've read the previous two books then you definitely should give this one a read. The characters are surprising, fun and enjoyable. In fact, I think I loved Delaney and Zac's story more than Ty and Monica's and that's saying something because I really enjoyed theirs.

Book Info:

 Lyrical Shine | March 15th 2016 | Hotel Rodeo #3
When Beauty Wants A Baby
Championship bull breeder and former Texas beauty queen Delaney McCall was having a heck of a time finding a daddy for the baby she craved. A failed marriage left her with no desire for another husband, but finding the right stud to satisfy her needs presents a bigger problem that she could have imagined.
And The Bullrider Wants Beauty
After hanging up his spurs, bull rider Zac McDaniel wants nothing more than to fulfill Delaney's dream of having a family. After all, his best friend's ex has been his fantasy for years. Zac, however, has no desire to be seen as just a means to an end. When Zac insists on doing things the "old fashioned" way, their passion explodes like a bull out of the chute.
Some Bucking Is Bound To Happen
While insisting it's all just a passing fancy, the more Delaney sees the softer side of the rough and tumble cowboy, the harder it is to keep her emotions corraled. Zac, meanwhile, is more determined than ever to prove he's what she really needs, and will do whatever it takes to tear down the mile high fence around her heart…