Bed of Flowers by Erin Satie is an evocative and sensual historical romance, the first in the Sweetness and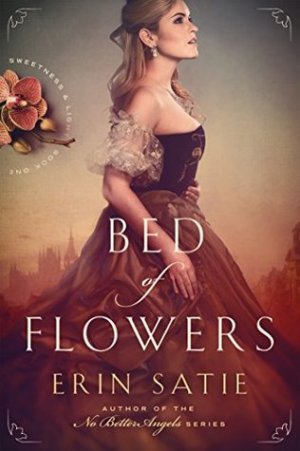 Light series. It's the story of two people who through accident and misfortune end up together, discovering that sometimes things that go wrong can turn out right in the end.
When an accidental fire caused immense damage to a small town and its residents, there were a number of people who suffered as a result. The young man at fault, 18 year old Orson Loel, became a pariah to his parents and the town. He left shortly after the accident, sailing for several years before coming home when his parents died. Denied his inheritance in his father's will, he lives as a tenant on the family property and has a greenhouse where he painstakingly grows orchids to sell for his livelihood.
One of those affected by the fire is Bonny Reed, whose family lost most of their wealth and social status. Bonny is a beautiful young woman but with little in the way of a dowry her chances of a good marriage rest solely on her looks. Eight years after the fire, she's engaged to Gavin, a wealthy man from a well-respected family. Gavin's always been circumspect around her, though the one time he tried to kiss her was a rather unpleasant event. Still, her family is counting on her marriage to help the family fortunes, and enable her younger sister to be introduced properly to society and find her own suitable husband.
Things start to go awry when Bonny, who helps her friend Cordelia with a travelling library, decides to go to Loel's estate to see if he would be willing to donate any books to their cause. To her surprise she discovers that the house is for all intents and purposes a mausoleum and that the only activity is the rich and earthy world of flowering orchids in Loel's greenhouse. Loel isn't pleased by the visit, especially when she almost ruins a new and valuable plant he's just received. And on a future visit when she comes to apologize, he tells her something about her husband- to- be that she doesn't want to hear. Bonny soon comes to realize that she'll have to make some serious choices, between what's expected of her and what she really wants, and no matter what there will be consequences. Will she choose the right path that will lead to a happy ending?
What an enthralling story! It was very hard to put down once I started. There is no sugar coating of the expectations for women at the time, and how easily their fortunes could be destroyed by gossip or mistakes. Bonny knows she is taking a risk when she first enters Loel's property, and when she continues to visit in secret. But she is also fascinated by Loel and his orchids and wants to do something to assuage her own guilt over her part in Loel's current circumstances.
As for Loel, he is a man now used to hardship, from his long years at sea and difficult choices with which he was faced. I found his greenhouse and the growing of orchids quite fascinating as a livelihood. He's a complicated man who believes himself unworthy of Bonny but they are both guilty of assumptions and making mistakes. This is a slow burn romance with some sensual and passionate scenes as Loel and Bonny discover salvation in each other. The world they live in is a harsh one, but the romance between them is tender and the ending is thoroughly satisfying. I am very much looking forward to what will come next in the series.
Book Info:

Publication: June 19, 2018 | Little Phrase | Sweetness and Light #1
Bonny Reed is beautiful, inside and out.
A loyal friend and loving daughter, she's newly engaged to her small town's most eligible bachelor. She's happy for herself–but mostly for her family, who need the security her marriage will bring.
An old enemy shatters her illusions.
First Baron Loel cost Bonny's family her fortune. Now he's insisting that her fiancé has hidden flaws, secrets so dark that–if she believed him–she'd have to call off the wedding.
How will she choose?
When the truth comes out, Bonny will have to choose between doing what's right and what's easy. Between her family and her best friend. And hardest of all–between her honor and the love of a man who everyone wants her to hate.