In Inherited for the Royal Bed by Annie West , four years ago Lina was sent to Sayid's uncle to be his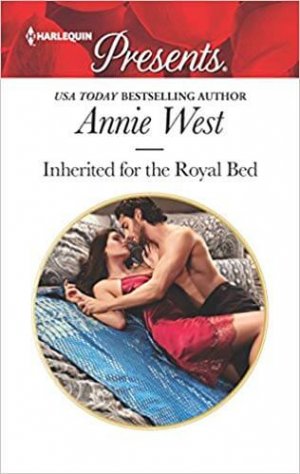 concubine, but instead, Sayid — the new Emir — gave her everything she could have ever wanted – the chance to be free and pursue her dreams. But now she's back in his country and he can't believe the gorgeous and feisty woman before him was once the innocent and naïve girl he met years ago. Tempted by her beauty, but unable to offer her anything more than a week long affair, Sayid decides to ask if she's interested in being his for a limited time. Will Lina fight for her shot at happy ever after with Sayid or will she walk away before she has her heart broken?
"I can't leave, sir. It's all been arranged." She curved her lips in a tentative smile that didn't show in her eyes. "With your uncle's death, I now belong to you."
What a fascinating and engaging read Ms. West has delivered in this book where the heroine finally finds someone that cares about her well-being since the death of her parents; the hero is determined to do right by his country and undo everything his uncle did as the last Emir; the main characters have interesting back stories that drew me in from the very beginning and had me sympathizing with the pair, as the heroine's uncle seems like a real piece of work in sending his seventeen-year-old niece off to be a ruler's concubine; and the dialogue had me loving the heroine's feistiness when she and Sayid come face-to-face four years later. Talk about a wonderful transformation because she was quite shy and naïve in the beginning.
As for the dialogue, it was intense due to the main characters back stories and everything these two go through on their journey to happy ever after including the hero's jealousy and the heroine's determination for more than Sayid believes he can give her when it comes to her future happiness. Will Sayid realize that Lina is the best woman to come into his life before it's too late? Will Lina be able to show Sayid that love and happiness are worth fighting for? Moreover, I loved how the heroine blossoms throughout this story in the way she went from a shy and naïve girl when she first meets Sayid to the feisty and compelling woman she is four years later when they're reunited. Really, she's accomplished so much because of him. She's also confident, resilient, courageous, driven, feisty and I liked the challenge she provided for the hero. She's come so far and determined to pay Sayid back for everything he's helped her achieve by working hard and interacting with the people of his country.
"She has a way with people that's more effective than anything we've tried before."
"Really?" Pride rose. He'd thought from the first Lina was far from ordinary. That she had potential it would be criminal not to encourage.
"You didn't realise?"
"I barely know her," Sayid admitted, just as if he hadn't received regular reports over the years. "She's spent a lot of time away." At his friend's stare he added, "But I agree, she can be quite…winning."
While the hero, he's confident, driven and I liked how determined he is to change the ways of his country because during his uncle's rule things seemed terrible in where his uncle cared more about himself than the country. I also liked the decisions the hero makes throughout this story in the way he's helped Lina and the way he supports his country's people by getting out and interacting with them. Yet, what I liked most of all about the hero was how protective he was of the heroine and that he would do anything to help her, even if the efforts he goes to in order to protect her don't endear him to her. Since Lina has had to live with people's judgment for years without anyone doing anything about it, so why would she allow someone to swoop in and protect her from people's judgments now?
Overall, Ms. West has delivered a really good read in this book where the chemistry between this couple was present and strong from the moment they meet, even though Sayid never planned to do anything about their attraction until he finds he can't resist her anymore; the romance was full of heat and passion and had me liking that Sayid shows Lina how special it could be between a man and a woman; and the ending had me liking the hero's determination to make things right with the heroine because she's the one for him. His words are heart-warming and show Lina how much he really cares about her and can't let her go. I would recommend Inherited for the Royal Bed by Annie West, if you enjoy the mysterious strangers trope or books by authors Penny Jordan, Carole Mortimer, Michelle Reid and Clare Connelly.

Book Info:

Publication: June 19th, 2018 | Harlequin Presents |
'I now belong to you.'
He will finally claim his inheritance!
Four years after inheriting—and liberating—a concubine, powerful ruler Sayid is shocked to see the transformation of Lina. No longer shy and naive, she is a feisty, irresistible woman. And Sayid has never wanted anyone more! But, duty-bound to his country, Sayid can only commit to a brief affair. Will Lina accept his outrageous proposal of a week in the royal bed?