Best Friends, Secret Lovers by Jessica Lemmon is a sexy and fun romance for a pair of friends and work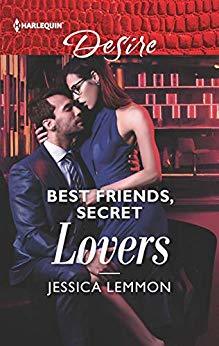 colleagues who dare to let their relationship head in a new direction.
Sabrina and Flynn have been best friends since college and continued to deepen that friendship as they went to work together at Flynn's family company, Monarch Industries, a management consulting firm. Sabrina takes care of social media and marketing functions and Flynn's father has recently passed away, leaving Flynn in charge. The stress of these changes, plus his recent divorce from finding his wife (now ex) in bed with his brother (ugh) have made him into an understandably bad tempered and grouchy man.
The top managers at Monarch, all long time employees of his father are threatening a coup if Flynn doesn't take a vacation to deal with everything away from work and Sabrina has volunteered to take some time off with him to help him get back to his old self. Their other friends Reid and Gage also work at Monarch and can hold down the fort while Flynn and Sabrina take time off.
Faced with few options, Flynn agrees. And when a plumbing emergency forces Sabrina out of her place, Flynn offers her a guest room in his family home. Spending time together, alone, and for the first time both single suddenly makes them aware of each other in a new way. It's easy to slip from friends to lovers. But when their vacation is over and real life starts up again, will they be able to go back to the way things were?
I'm a particular fan of this trope and Jessica Lemmon does a wonderful job of showing the joys and challenges of best friends opening up to each other in a new and intimate fashion. Her love scenes are sexy and emotional and fun, the right combination to show why these two fit so well together. They go into the affair with clear boundaries that it's just for a few weeks and won't ruin their friendship but it's not long before emotions get out of hand and make things complicated.
To top it off, Flynn, Reid and Gage have made a 'no marriage' pact, and after the debacle of his first marriage (where Flynn had obviously broken the pact), Flynn is determined to stick to it this time. Sabrina knows all about the pact but she's also willing to take a chance on something with Flynn – if he will admit that his feelings for her have changed. Of course they get their happy ending (with some appropriate Flynn grovelling for almost screwing everything up). It's a great start to a new series and I'm looking forward to seeing Flynn's bachelor friends find their partners! Fans of friends to lovers romances will definitely want to add this one to their to-read shelf.

Book Info:

Publication: Feb 01, 2019 | Harlequin Desire | The Bachelor Pact #1
The leap from friends to lovers means they have everything to gain…or everything to lose…
Colleagues, confidants and best friends for years, Flynn and Sabrina have never crossed that line. Until one searing Valentine's Day kiss. And when circumstances force Sabrina to move in with Flynn…that line disappears. But becoming friends with benefits must stay a secret. Because if word gets out, they'll be risking their professional reputations and their relationship…