Best Man … With Benefits by Nancy Warren: Remember when you were little and your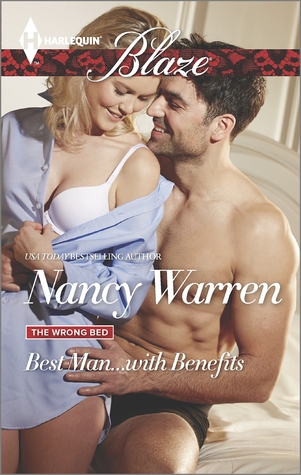 parents told you the person picking on you probably was just doing it because they liked you? Yep, well some people never seem to grow out of that stage…
Lauren Sanger loved her best friend. They were practically raised together and she was practically her sister so there wasn't anything she wouldn't do for her. Yes this even meant being paired with the most obnoxious man on earth for her wedding. The best man was attractive she would give him that and if he never opened his mouth he might have stood a chance at being a decent human being but no he opened it all the time!
Jackson Monaghan knew his best friend was happy, even if the woman he was marrying wouldn't have been his first choice, but then it wasn't his life. He was going to put on a smile and be there for him, even if it meant standing up with the hottest little pain in the rear end he had known in a long time. He owed his best friend many things and this he could do, just for him.
Being at a wedding was bad enough, being dateless and partnered with the person you'd been verbally sparing with for years? Well doesn't that sound like a perfect evening? Add to it an open bar, a "fraternity" prank and a whole lot of chemistry? Can one night be just one night? Or will one night turn into one lifetime?
Ms. Warren has given an interesting take on the best man/maid of honor story. From two people who never really got along to lovers can be an interesting journey. She has given depth to her characters and a nice even plot line that well it doesn't keep you guessing does keep your heart wanting a good ending for two misunderstood people. This is a nice easy flowing read for anyone who has a little bit of down time and just wants some happiness.
Book Info:

Publication: June 16th 2015 | Harlequin Blaze Series #854 |
May the best man sin…
Lauren Sanger is practically the perfect maid of honor, except for one tiny flaw. She hates the best man. Jackson Monaghan is beyond hot—his body is the stuff of sexy lady dreams—but he's just such a jerk. So when a prank lands them in the same bed, Lauren should have flipped out…instead of having the best sex of her life with the best man!
Jackson can't figure out how two people with anti-chemistry during the day can have such a wickedly hot sexual chemistry at night. Worse still, he wants more. Enough to dare Lauren into doing the last thing she should be doing—him. But friends with benefits is one thing…enemies with benefits is quite another.