Between the Devil and Ian Eversea by Julie Anne Long: Recently, it seems like every week I am exposed to a new and utterly fantastic author who is new to me but everyone else seems to know about. Julie Anne Long and her Pennyroyal Green series is one of those authors. I was blown away by this book, and I immediately went to look for more books in this series when I was finished with "Between the Devil and Ian Eversea."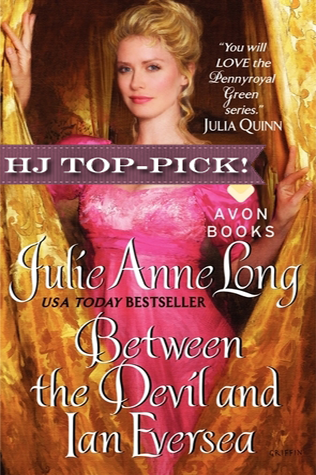 Miss Titania Danforth, or "Tansy" as she expansively asks everyone to call her, is an orphan whose only brother died in the War of 1812. Orphaned in American, where her parents had emigrated, she has travelled back to England and to the home of the Duke of Falconbridge who was the cousin of her father, and who is now her guardian, and entrusted with finding her someone worthy to marry. The one person who Falconbridge publicly warns off his new ward is Ian Eversea, his brother-in-law, and a man who he had once ordered at gunpoint to climb naked out of his former fiancée's window. Inexplicably, Ian is staying at the duke's home, and is in the room right next to Tansy's. Ian also has the disconcerting habit of going outside on the balcony half naked at sunrise, and stretching.
"The man was standing on the balcony! …. All of her senses were marshaled to the job of seeing him, like specters using a fence at a horse race. She breathed and she felt him everywhere, again. As though her entire body wanted to participate in his beauty."
Tansy is astonishingly beautiful, apparently modest and well-bred. Tansy is well aware that she is alone in the world, and lonely, so she utilizes her skills as a "virtuoso of flirtation," and this quickly gets her into trouble with nearly every younger woman in the area. She is also stuck pretty much dumb when she sets eye on Ian Eversea at her first ball in Sussex. Ian, war hero and Captain, has saved up his money and is visiting family before he goes a trip around the world. He is initially not impressed with Tansy, seeing her as very young and somewhat reckless with people's affections, especially that of his sister Olivia, who, prior to Tansy's arrival, was the toast of the area. He tells his brother:
"I'm telling you, Colin, she's Beelzebub in a bonnet. Satan in Satin."
As time passes, however, he starts noticing odd little things about her, which leads Ian to believe that Tansy is more than an empty headed widgeon. Ian sees more about her than others do, since he is not distracted by her very attractive flirtatious girl persona. He can see the fear and vulnerability in her, and she can see the same in him also.
"She dropped her hot cheeks into her hands. But then she raised her head slowly and took a long and steadying breath. Because regardless of what he thought of her, it was strangely a relief to be known."
This book is so good it's hard to explain why. It's very well constructed: the characters, the dialogue, the scene and setting are all lovely and precise. The conversations are whip-smart and stinging, flung about in a way that makes one recall TV shows like "Moonlighting" and "Nick and Nora" movies. They argue and snipe at each other, and then one day, it's attraction, and the attraction doesn't seemed forced or strange, despite the fact that they are years apart in age and experience. The motivations and inner feelings of the main characters are carefully exposed, and the reader feels like they are part of Tansy's and Ian's journey of self-knowledge. It's also lovely to see the interplay between all of the different members of the Eversea family, especially the wily Duke of Falconbridge who has a greater part in all the machinations than his intimidating yet rather subdued demeanor would indicate. There is of course tension and troublemakers and conflict that must be overcome, and it's all nicely done, but it's really nice that most of the conflict comes from between Tansy and Ian and the personal growth that has to come from them to make their relationship work. Finally, I have to add, spoiler free, that I found the ending so immensely satisfying that I read the last couple of chapters more than once.
As mentioned earlier, "The Devil and Ian Eversea" is the ninth book in the Pennyroyal Green series. One would think that a ninth book in a series would suffer from a lack knowledge of the other eight books, but I didn't find this true at all. It did stand alone, and exposition was very gently done. However, it could be seen that there was more to the other characters and their back story, and I can say from experience that once you read this book you will want to go out and read the rest of the series.
Book Info:

Publication: March 25th 2014 by Avon | Series: Pennyroyal Green #9
She might look like an angel…
The moment orphaned American heiress Titania "Tansy" Danforth arrives on English shores she cuts a swath through Sussex, enslaving hearts and stealing beaux. She knows she's destined for a spectacular titled marriage—but the only man who fascinates her couldn't be more infamous…or less interested.
…but it takes a devil to know one…
A hardened veteran of war, inveterate rogue Ian Eversea keeps women enthralled, his heart guarded and his options open: why should he succumb to the shackles of marriage when devastating good looks and Eversea charm make seduction so easy?
…and Heaven has never been hotter.
When Ian is forced to call her on her game, he never dreams the unmasked Tansy—vulnerable, brave, achingly sensual—will tempt him beyond endurance. And fight as he will, this notorious bachelor who stood down enemies on a battlefield might finally surrender his heart…and be brought to his knees by love.