Billionaire's Baby of Redemption by Michelle Smart concludes her passionate Rings of Vengeance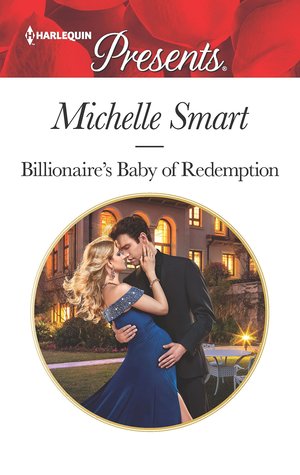 romance series. While each story can be read as a standalone, events in the first two books, Billionaire's Bride for Revenge and Marriage Made in Blackmail have led up to this dramatic conclusion. Javier Cassilas has been the bad guy up to now – a man who cheated his best friend Benjamin out of a fortune and cut off ties with his twin brother Luis. He believes he doesn't deserve love – yet it finds him, humbles him, and changes him for the better.
Javier's one night stand with ballerina Sophie Johnson was one he quickly put out of his mind – until she comes to him with the news that she's pregnant. He insists on getting married for the sake of the child, but he envisions and expects a cold marriage of convenience. Sophie has other plans. Abandoned by her birth parents but adopted by a loving couple, she wants her child to be raised in a household with parents who respect and love each other. Convincing Javier that their marriage deserves a real chance will test her compassion and patience. Will she get her wish?
I really enjoyed this final chapter in the Rings of Vengeance series! It works well as a standalone, but Javier's redemption is more convincing if one sees the effect his decisions have had on the two men who were his best friends. Yes, Javier deliberately withheld information that caused the rift between them. Owning up to that and the background reasons for it are not something he'd planned to deal with until Sophie comes along to show him the light to his darkness.
I loved Sophie's steadfast determination to prove to Javier that he is not the monster he thinks he is, nor will he become a killer like his father. Javier has closed himself off emotionally for so long that it takes a slip of a girl with a big heart to show him the error of his ways. While they become sexually intimate shortly after their marriage, making the transition to a deeper connection takes longer.
As Sophie's pregnancy progresses, Javier discovers that his feelings about their marriage are changing too, though not soon enough to prevent him from some behavior that threatens to ruin their chance at a happy ending. Luckily he figures things out, finds a way to redeem himself in the eyes of those who matter and leads us to a happy ever after complete with a heartwarming epilogue. If passion, blackmail, revenge, drama, sex and happy ever afters are your reading catnip, you'll enjoy this series!
Book Info:

Publication: Sep 18, 2018 | Harlequin Presents | Rings of Vengeance #3
Claiming his heir is nonnegotiable – The decision will be life-changing..
When Spanish tycoon Javier Casillas learns his explosive night with Sophie Johnson left her pregnant, he's adamant they wed! But not even the red-hot pleasures of their marriage bed can thaw the ice around Javier's dark heart… Until warm, compassionate Sophie demands more. To truly claim his wife and unborn child, can Javier accept that giving them his all is the key to his redemption? Get swept away by this powerful and emotional secret baby romance!