Dinner Party by Tracy Bloom: Three couples, Beth and Chris, Sarah and Tony, and Marie and Duncan,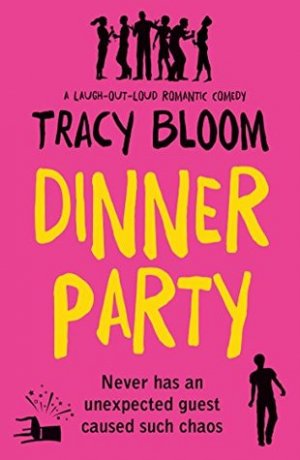 alternately host a monthly dinner party. But, when it is Beth and Chris' turn to host, Chris invites Simon, a man he met on his postal route. He fails to tell Beth, who is annoyed, but it just so happens that Simon is very attractive and is recently separated from his wife. However, no one could ever have predicted the outcome of such an innocent invitation.
Usually, these monthly dinner parties are all about dips and chips and the usual chit chat- nothing notable or too crazy. In fact, they can be a little dull. But, once Simon becomes a fixture, the group's dynamic will never be the same again.
I think fans of Liane Moriarty would really like this story. The author does a great job of creating a tense domestic environment in which each of the wives feels their marriages are less than ideal. When the attractive, and vulnerable Simon arrives on the scene, he revitalizes all three women, much to the chagrin of their husbands- except for the ever -oblivious Chris.
Told from the benefit of hindsight, we know something catastrophic takes place between the featured couples and that Simon is the catalyst. But, we have no idea what will happen and which marriage(s), will become collateral damage. This format creates an almost unbearable amount of suspense, which sorely tempts readers to skip ahead to see what will happen next.
The story also has a few moments of hilarity, where I guffawed out loud- especially at Beth, who has a forthrightness that is unrivaled. But, at the core of the story is Beth's unhappiness in her marriage, something her poor, overly optimistic and affable husband, Chris, is seemingly unaware of. Beth wants to feel cherished, beautiful, and sexy, but she is usually described as 'cuddly'. That's not a bad thing, really, but Beth doesn't see it that way. She's bored, and wants something exciting in her life, and Simon just might be her ticket out of the doldrums. But, she will have to get in line behind Sarah and Marie, women who are stylish, thin, and much more conniving, who also find Simon stimulating.
This is a very well-written domestic drama, full of suspense, and comedy, but it is also surprisingly romantic. This book was hard to put down and had me furiously turning pages to see how everything turned out in the end. There are lots of surprises, lots of comedy, and a little bit of emotion sprinkled in, here and there, to give the story depth and balance.
Overall, this is a highly entertaining and absorbing novel. This was my first taste of Tracy Bloom's work, but, will not be my last!!

Book Info:

Publication: 9/26/18 | Bookouture |
Never has an unexpected guest caused such chaos!
Three couples take it in turns to host a monthly dinner party.
Beth, Sarah and Marie have been friends forever. Now they are grown up, with busy lives, busy husbands, busy kids… but they still find time to meet up over dinner once a month. A cosy, comfortable gathering of happy couples – or so they thought.
Until one night, someone brings along a last-minute guest whose wife has just left him.
Simon is standing on the doorstep in floods of tears. While the women do their best to console him, their husbands feel the need to mark their territory.
And as Simon becomes more involved with the group, his presence changes everything these three couples thought they knew about each other, leading to a final dinner party that no-one will ever forget.