Billionaire's Wife on Paper by Melanie Milburne: Logan is the steady, responsible brother who has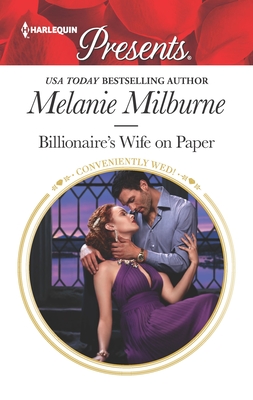 it all together. He's also a sexy, charming, and much in-demand architect. He was raised to honor the family legacy and castle he calls home. He's set against relationships, love, and commitment.
Layla lost her parents young, but was fortunate to grow up in a Scottish castle. She adores the castle and her great-aunt who took her in. Layla is self-conscious of her scars and has little experience with dating or men. She focuses instead on building her business and taking care of the castle.
Logan and Layla have known each other since Layla arrived at his family's castle, but they aren't exactly friends. Layla has always had a crush on him, but she's convinced she's out of his league. Things change when Logan needs to marry to save the castle they both love. He's determined and persuasive, including convincing Layla they should enter a marriage in name only.
'If I were to marry you, what would we tell people about us? I mean, are we going to pretend it's a real marriage, or—?'
Logan rubbed a hand along the side of his jaw before dropping his hand back by his side. 'I would
prefer people to think it's a genuine love match. I'm not sure who's going to buy it, but still.'
Her chin came back up and the daggers were back glinting in her eyes. 'Thank you.'
Logan appreciates that Layla is honest with him, but he's surprised by how he's starting to see her in a new light since his sudden proposal. The sudden marriage and honeymoon allow them a chance to get to know each other so they pass as an actual couple. Their relationship becomes real as they open up to each other to a greater extent than either planned.
'There will be occasions when we'll be required to show some affection. Holding hands, a kiss on the cheek or a quick peck on the lips for appearances' sake. It would look odd if we didn't.'
'Okay…' Her voice was as soft as the whisper of the afternoon breeze. 'But earlier today you were
pretty determined we weren't going to kiss again.'
'Unless absolutely necessary.'
Billionaire's Wife on Paper is heartwarming, passionate, and endearing. Melanie Milburne created interesting and complementary characters in a marriage of convenience story. Ms. Milburne provided descriptive settings with family, friends, and a sweet dog. Fans of Susan Stephens and Abbi Green will enjoy Billionaire's Wife on Paper.
Book Info:

Publication: Published December 12th 2019 | Harlequin Presents |
"I need a temporary wife."
Logan McLaughlin can't lose his Scottish family estate. But to rescue it, his grandfather's will demands he wed! Logan avoids real relationships, having failed so significantly at love before. So when housemaid Layla suggests he take a convenient wife, he's intrigued…
Untouched Layla never imagined Logan would choose her! With her scars, she feels far from the perfect bride. Yet to protect the only home she's ever known, she'll wear Logan's ring… But can she ignore the burning connection threatening to destroy their paper-only arrangement?