In Bitter Bite (Elemental Assassin #14) by Jennifer Estep, Assassin Gin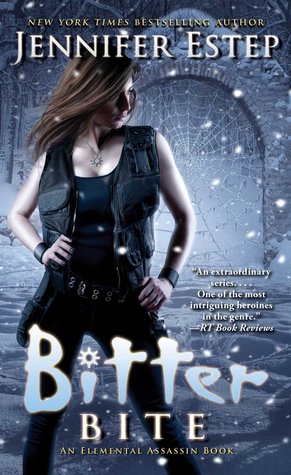 Blanco, aka the Spider, is getting used to her newish role as the head of Ashland's underground. When the evil crime bosses aren't whining to her about one issue or another, she's taking care of her legitimate business, a barbecue joint called the Pork Pit. But what's taking up most of her time right now is getting a true reading on her foster brother Finnegan Lane's relative who shows up after being thought dead.
"As an assassin, you should know that information is often the key to cutting off certain problems before they get started."
"Of course, you're right," I drawled. "Silly me for thinking that I had been cutting of certain problems with my knives for years now."
Gin is suspicious enough of the situation without the bad feeling she gets every time she's in the same room as the newcomer. And knowing that her own ice and stone elemental gifts are nowhere near as strong and Finn's relative's gift makes her extremely leery. Gin will do whatever it takes to keep Finn safe. He's always had her back. And now it's time to return the favor.
"You should know this," I said in a cold, hard voice. "When you hurt Finn, I will kill you."
She gasped again, her blue eyes widened, and her hand flew to her heart, as though she were truly startled by my poison promise.
Bitter Bite proved why the exciting Elemental Assassin series is such a popular one. Gin Blanco was at her best here, protecting her loved ones and kicking the bad guys, ahem, behinds.
You've gotta enjoy a female character who is a tad paranoid and cynical, definitely a badass, and not afraid to fight until she's the only one left standing, BUT who is also loyal, caring, and a heck of a cook. That's why I look forward to each new book in this series. I think Jennifer Estep has done a great job building a character who's not your typical heroine. The stories are dark, gritty, and gory, but to me they're still about family, love and hope. It's a cool combination.
By book fourteen, yes, there's a certain formula to each new plot, but it works so well and doesn't seem repetitive somehow. There was a lot going on this time, with Gin investigating why someone from Finn's past suddenly showed up and what their motive was. I loved that nothing was cut and dry. Gin and even her detective sister Bria both questioned whether they were being too paranoid or if something really was amiss. And like always, the action/fight scenes were perfectly detailed and had me holding my breath in suspense.
Things just keep heating up and getting more complicated for Gin while she fights the crime bosses in Ashland's underground. I think fans will devour this latest installment and will be looking forward to what comes next for the Spider.
Book Info:

Publication: Published February 23rd 2016 | Pocket Books | Elemental Assassin #14
Which is stronger: blood ties or a battle-tested friendship?
It's not easy being queen bee of an underworld abuzz with crooks and killers. Wielding my potent Ice and Stone elemental magic will only get me so far—my real secret is my tight-knit makeshift family, a motley crew of cops and criminals, dwarves and playboys. My foster brother Finnegan Lane is my right-hand man, but when his suddenly not-dead relative comes back into the picture, I'm the one on the outside looking in.
It's funny how life works: one minute your best friend is rock-steady, and the next he's doe-eyed and buying into this whole loving-relative routine to the point of ignoring you. I'd like to be happy for Finn, I really would. But all of my instincts are telling me that beneath the syrupy sweet demeanor and old-fashioned charm, this sudden interloper is planning something. The whole shtick leaves a bitter taste in my mouth. This person might have avoided the grave once, but I'll put anyone who hurts Finn in the ground—for good.