Black Tie Billionaire by Naima Simone is a sexy, passionate, and drama filled 'revenge' romance. It's the second story in the author's Blackout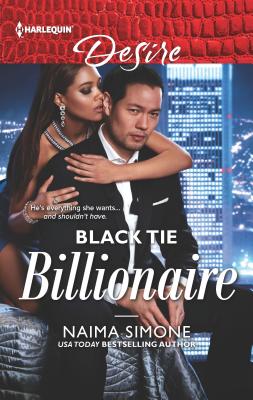 Billionaire series, where thing that happen in the dark change futures forever.
Heiress Shay Neal is doing a favour for her friend Bridgette, helping out with her catering business (in disguise) when handsome, sexy, billionaire and tech entrepreneur Gideon Knight approaches her at a gala event. He's interested in getting to know her better if she gives him the word. Of course, he thinks she's the hired help and she doesn't correct him as people tend to treat her differently when they know who she really is. When a power outage plunges them into the dark, they take more than just solace from each other, resulting in a steamy few hours together before the lights return and Gideon finds that his mystery woman has disappeared.
Gideon has a plan to enact revenge on his nemesis, Trevor Neal, a man who stole his fiancee and broke the heart of his sister Olivia. He's got enough dirt on Trevor's shady dealings to cause severe trouble for Remington Neal, the Neal family company. And he plans to blackmail Trevor's sister Shay to pretend to be in a relationship with him to send a message to Trevor. But little does he know that Shay is none other than the woman from the party though there's something about her that seems familiar. Shay has no choice but to protect her brother from the possible fallout and agrees to Gideon's demands. She can't forget their night together and despite the circumstances, her attraction to him is just as strong. It's not long before Gideon realizes the truth of Shay's identity, forcing him to make the ultimate decision – will it be revenge or something even sweeter?
Oh, I do love an enemies to lovers romance and Naima Simone is a master storyteller when it comes to writing those angsty 'I hate you but I can't resist you!' stories. Her romances are definitely on the steamier side too, so be prepared for some heat! The feud between Trevor and Gideon is multifaceted, with Shay caught in the middle. Loyalty to her family is strong, though seeing the proof of what Trevor has been up to, and realizing how he's successfully sidelined her in the family business by not taking her education or her skills seriously make her realize she needs to start looking out for herself. And it's Gideon who is willing to stand beside her and support her in her career aspirations, not Trevor.
Conflicted though their feelings are, Gideon and Shay are connected by strong chemistry, shared ambitions and an ability to share their intimate thoughts with each other. Their fake relationship soon progresses to a real one. Though they go through some ups and downs their happy ending is worth the wait. If you enjoy strong characters, heat, drama, and emotional conflicts, you'll want to add this one to your to-read list!
Book Info:

Publication: Sep 01, 2019 | Harlequin Desire | Blackout Billionaires #2
He's everything she wants…and shouldn't have.
His smile was slow, deliberate…sinful.
Has she just made a deal with the devil?
During a blackout at a black-tie gala, Shay Neal says yes to one night with billionaire Gideon Knight…not knowing he's her brother's enemy with plans for payback! Now, to save her brother, Shay must pretend to be in love with Gideon. But playing his game means resisting the very real desire that could destroy them both…