That Forever Girl by Meghan Quinn: Rogan had everything going for him until one moment where he lost it all. Rogan has since rebuilt his life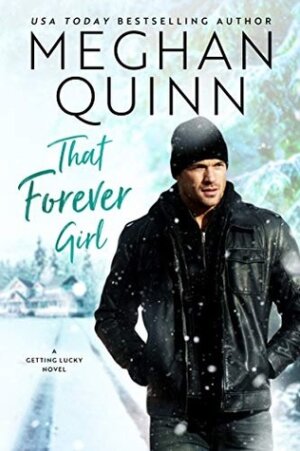 in his hometown of Port Snow with two thriving real estate businesses. He's good between work and his meddlesome family, but he's missing what will make him truly happy. He might not buy into the "curse," but he's also not interested in dating anyone to find out if he is actually cursed.
Harper has spent years living along the New England coast and it's finally time to return home. Her life hasn't turned out at all like she expected and it's time to put herself back together. Returning home and facing her past and the memories will be challenging but she's willing to try. She's smart, feisty, loyal, and determined.
Rogan and Harper were childhood friends and finally became the town's "it" couple. They were inseparable as friends and that didn't change when they started dating. Rogan was sweet, thoughtful, patient, and romantic. They had their lives all planned out until it all fell apart. Both were devastated and heartbroken by the loss of their relationship and losing their best friend. Seven years later and Rogan is not at all prepared for Harper to come home.
"Why are you really here? It sure as hell isn't to help out your dad."
"That's none of your business. Didn't you forget? You're the one who broke my heart, which means you don't get to ask those kind of questions anymore."
Ignoring me, he presses on. "What happened? Are you really here to start fresh or are you just passing through, trying to make my life a living hell?"
Nothing is easy when you have the devastation of their past in a small town that's watching your every move and pushing you back together. Rogan and Harper have matured and taken unexpected paths to get where they are in the present. The only thing that hasn't changed is their undeniable chemistry and feelings for each other. They banter, fight, and push each other's buttons. Harper isn't exactly thrilled to have to work with Rogan, but it gives them the opportunity to resume their friendship and maybe more.
Rogan: I think those rules have been thrown out the window at this point.
Harper: Because you can't seem to follow them.
Rogan: You were lucky you got an hour out of me. Sorry to tell you this, Harp, but when it comes to us, there are no rules.
That Forever Girl sweet, sassy, sexy, and sentimental. Meghan Quinn draws you into the tangled and messy history of childhood sweethearts and exes with a second chance. Ms. Quinn weaved together the past and present with revealing surprises and an entertaining cast of characters. Fans of Erika Kelly and Sarina Bowen will love That Forever Girl.
Book Info:

Publication: August 27th 2019 | Montlake Romance | Getting Lucky #2
USA Today bestselling author Meghan Quinn's second book in the Getting Lucky series brings heart, humor, and heat back to Port Snow.
There are two little words every small-town man dreads:
She's back.
Harper Sanders, the girl who was supposed to be my forever, has returned to Port Snow, Maine, for good—and she's bringing back memories of our shared past.
We once had a bright future together, but when tragedy struck, I threw it all away and pushed her out of my life. People in our small town think I'm cursed, but I know better. I did it all to myself.
And now she's creating a life of her own in the place where we first fell in love. I can't fight my feelings for her—or the strong attraction that keeps pulling us together. But after all this time, can she forgive the past and fall in love with me all over again?
Everyone hopes to find that forever girl…I just hope I haven't lost mine for good.